Deprecated
: preg_replace(): The /e modifier is deprecated, use preg_replace_callback instead in
/var/www/html/0708.fueledbyrice.org/public_html/blog/wp-includes/formatting.php
on line
74
When we first arrived at the park info center that morning we were looking for breakfast.  We were skeptical because we knew it was a tourist area and so we expected things might be more expensive.  I asked about a bowl of noodles in broth—a typical SE Asian breakfast—and the young proprietor said they were 12,000 Kip a bowl.  He asked how many we wanted, but I told him we were used to paying 4,000 or 6,000 for noodles–I'd just have some tea.  A few moments later he approached me and said, "For you, 6000 is OK."  I said we'd have four bowls and thanked him. 
We ended up staying the day; some of us hiked in the old growth forest of the national park and some explored the area on bikes.  The young manager, who turned out to be Sam, let us leave our luggage at his place so we could more freely bike and hike around.  I don't think Sam was his real name – at least not the same name as my cousin Sam, but that's what it sounded like.  At least, that's what everyone else called him too.  Saam maybe.
Sam was very friendly and the only one speaking English at the information shelter.  His was actually the restaurant next door, but he was useful for translation, so he was often running around explaining reasons to Tourists' questions and acting as middle-man for negotiations, as well as taking orders.  At 21 he was renting the space from the village and running food and drinks for tourists and locals with his 19-year-old wife.  This was now his fourth month in business and about the same month of marriage.  We'd been biking longer.
As a member of Kiet Ngong village in southern Laos, Sam grew up to see his home become part of Xe Pian National Protected Area.  In exchange for stricter regulations for cutting trees and hunting, the villagers were provided with a means for harnessing the cash-flow of the increasingly popular Ecotourism industry, and were allowed to use natural resources as needed for personal and village use—as long as they weren't taken outside the park and sold for profit.  Within the boundary of the park the sign said there were tigers, but rarely if ever seen.  Several other endangered species could be found in Xe Pian, as well as some old-growth forests, which, if left unprotected, could be attractive lumber sources to fast-developing nations like
Vietnam.  Most likely the park protection had come just in time.
One of the main attractions at Sam's place was the elephant rides.  As Peter and I  sat in the shade and sipped our Pepsis, we watched about a half dozen owners guide their elephants into position for the day's business—some with small rods and cords, others by pressing feet behind the elephants' ears and coaxing with a few words.  Then they waited for a tourist van.  Peter and I marveled at how deftly the elephants used their trunks to grab and lift branches as big around as a half-dollar, crunching them like celery somewhere in their floppy, unhurried mouths.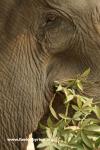 Sam's father also owned an elephant.  He may have been the one wearing the Minnesota hat—Sam wasn't clear when he pointed him out.  I wondered how a Laoatian man, resting in the shade of a 90 degree January day on his elephant, came to be wearing a Minnesota Vikings derby style hat; a funny coincidence to make the world a smaller and more familiar place.  Of course we took a picture.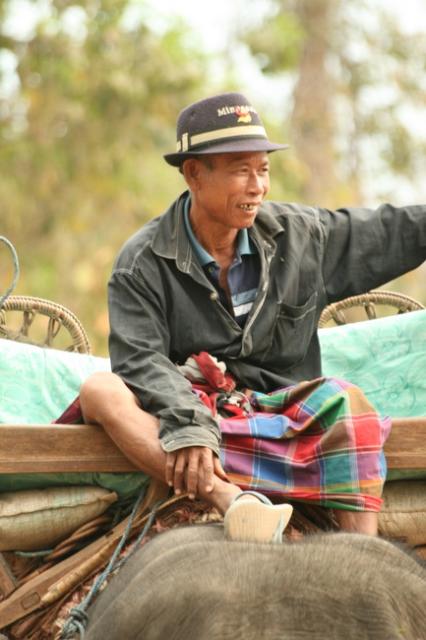 Sam's younger brother was also there, helping with tasks around the restaurant and with the elephants.  During one of the quieter times of the afternoon, when there was no tour bus, I fished out of my bags the slingshot I'd made earlier for some friendly target competition.  Sam's brother came over with a smile.  We set up an empty water bottle and took turns aiming our stone missiles.  I managed to hit the bottle twice with the same amount of stones it took my young friend to knock it down ten times.  Seeing that he needed a more challenging target, I found a bottle cap and hung it on a stiff blade of grass.  It didn't take him long to send that flying with a square hit at twenty paces.  Somewhere in there I surrendered my competitive spirit for appreciation of his skill.  He was twelve, after all…
Maybe because we were just hanging out all day, we developed a connection with Sam.  He seemed genuinely interested in us, and when he saw our guitars he smiled with excitement and pointed to his own in the corner.  The situation looked promising.
I got the impression that he'd been trained on how to deal with tourists and the common questions in order to turn profit.  But with us he seemed more reluctant.  Throughout the day he asked us whether we'd be staying the night for 20,000 K per person, but we said we'd rather camp for free.  In the late afternoon, as we made ready to go he blurted that we could stay here, OK no money — just camp in the information center shelter after everyone had left, and we could use the pump to wash.  Perfect.
Later that night, after our tents were set up, we brought out the guitars and played music together, trading Lao and Thai songs for Blues and Euro/American songs with the occasional Japanese tune.  Sam was clearly enjoying it, as were we, and soon was requesting each person to perform a song from his or her particular region.  We went around the circle and each did a song as best we could.  Jim did "Ghost Riders" as a cowboy song from the West, Peter played Boston's "More than a Feeling", Yusuke did a Japanese song, Nakia did a song/chant she used to sing with her friends at school, and I cheated and played Cat Stevens.  It was a cultural musical exchange jam session, as it should be.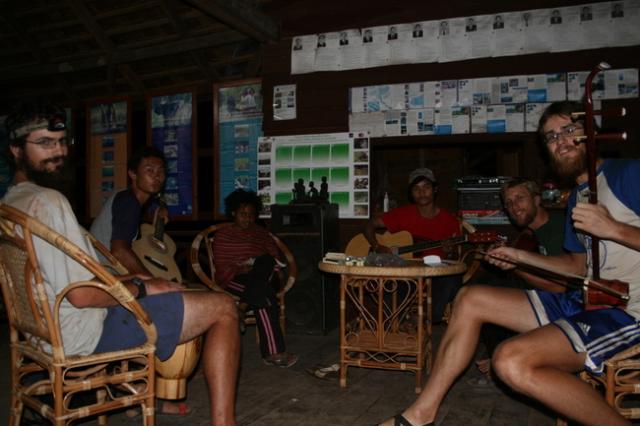 In the morning we ate again, after Sam's wife returned with the day's groceries on the handles of her motorbike, and we said our farewells.  I wished him well, and I really meant it.  He and his wife seemed happy and they had a good thing going.  As for us, we were back on the road; back toward Cambodia along the Mekong River; back toward our next surprise encounter, whatever it was going to be.