Since crossing the Lao-Vietnam border on Jan 19, the drastic change in climate has forced us to change our daily routine.  In China and Vietnam we would start at 8am, take a morning break around 10am for about 20min, a lunch break around 12-12:30 for about 1 hour, and try to be done biking our 70-75km by 3 or 4pm, and when we were lucky, before a late lunch at 1pm.  We liked arriving early at the day's final destination so we would have time to explore the small city or town we were staying in, in addition to having time to talk with people and work on our individual projects (i.e. writing, photography, and video). 
Now, the mid-day sun is so intense and hot that we simply can't bike comfortably between 11:30am and 3pm .  Moreover, as the morning heats up, doing 70km before 11:30am (or even in a whole day) would only be possible if we started biking before sunrise at 6am – something we've often mentioned but as of yet haven't been motivated to actually do.  So now that we loose 3.5 hrs of daytime biking and we're not on as tight of a schedule to make it to a friend's wedding on the other side of China as we were the first 2 months, we've reduced our average daily distance to 60km (maybe 40 miles), and occasionally just 50km. 
In Lao, as soon as 11:15am or so came, we kept our eyes open for restaurants, which were small wooden structures with plenty of locals just hanging around to get out of the sun, usually located at dirt road intersections with paved Hwy 13, which we were riding on.  The best restaurants would have a raised wooden platform in the shade for guests to take naps on after eating, which has quickly become our habit.  After beginning to ride again at 3pm , we planned and still plan in Cambodia , to stop at the first "inviting" river after 5km to swim and bathe.  Lao and Cambodia are relatively dry this time of year, but we usually find some kind of stream to cool us off within 20km after lunch.  Swimming in rivers has been an added blessing in Lao and Cambodia as nearly all rivers we saw in China were too polluted to even consider swimming in.
In northern Cambodia, restaurants have given way to very few small huts selling nothing more than snack food, ramen noodles, water, sugary fruit drinks, beer, and cigarettes – so in Cambodia we've been hauling our own baguettes (first appearing in Vietnam thanks to the French colonial influence), sweet bananas, rice, and beans bought in larger market towns 60-140km apart from each other (Stung Treng and now Kratie) and cooking dinners while camping.
Our diet in Lao also had drastically changed since China and Vietnam .  In Lao, gone was our familiar staple of standard steamed white rice and in was sticky rice.  Sticky rice comes in a woven basket-cup and is eaten with hands instead of chopsticks, rolling it into a ball and dipping it into the accompanying vegetable (often difficult to find) or meat dishes, quite similar to Kenya's and other African countries' staple, ugali (made from boiled corn meal).  Also gone was the wide array of vegetable dishes we enjoyed in China , especially eggplant and pumpkin, which we had come to relish.  In their place entered small sweet bananas.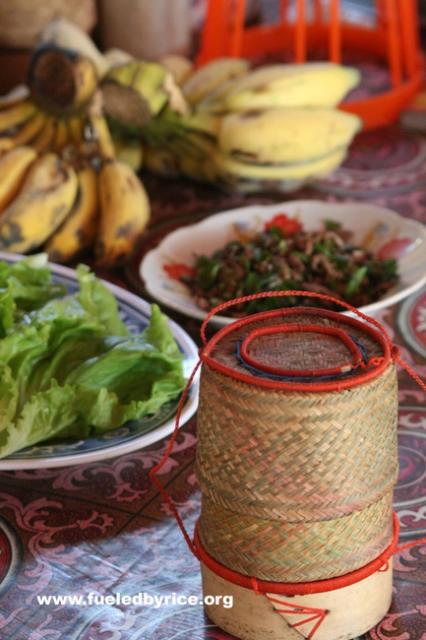 The good thing about the Lao diet of sticky rice and sweet bananas is that it is easily portable.  Since people and restaurants are sparse in Lao, we often bought our dinner's sticky rice and bananas at lunch, giving us the freedom to stop and camp where ever we were around 5pm when the sun would be getting low.  Currently in northern Cambodia , Lao's sticky rice seems to have disappeared so we're back to normal white rice, though we now have to cook it ourselves when camping since there are no real restaurants outside of Stung Treng and Kratie towns.