Deprecated
: preg_replace(): The /e modifier is deprecated, use preg_replace_callback instead in
/var/www/html/0708.fueledbyrice.org/public_html/blog/wp-includes/formatting.php
on line
74
For whatever reason, I've gained about 16 lbs since I started this bike trip. It's a good thing that means absolutely nothing to the people of rural India, where the more love handles peeping through the curtains of your sari, the better. Skinny married women are ostracized for staying skinny after having kids. The main priority of my new friends is to feed me.
"You eat breakfast, ma," they say after wetting my palette with a seasoned cucumber and fresh coconut water, an appetizer to the real meal of coconut poongal (a kind of fried rice  cereal) and chutney they sneak in at the end to make me stay. Is it possible for your stomach muscles to get strung out?
When I ask some of my unmarried women coworkers what they do for fun, they say that they go the temple to pray and buy jewels (fake gold earrings, bindis and the likes). Otherwise, not much. Life seems to be an endless cycle of cooking, cleaning, eating, working, drinking tea, eating, drinking coffee, chatting, eating, catching buses. And this is only amongst the women who have jobs. At least they have an outlet.
"You take more, ma," as they refill my plate with another heap of rice and chutney. I eat so much here – in between meals, when I am not hungry, second breakfasts, second servings – that I wonder if there is any other social pastime.
True, alcohol is reserved for men.  There is no similar social tool for women. It seems that friendships stop after marriage when women leave their childhood towns to live with their in-laws. Relatives and next doors neighbors seen in passing replace friends.
Men play cricket while women stay at home. Men go to tea kiosks to read the newspapers and catch up on the latest job opportunities. Women stay at home, where they get news from the neighbor, who is often their sister-in-law. Men migrate to urban areas like Chennai, or international job centers like Dubai or Singapore to earn salaries in higher currencies and escape demeaning farm work. Women stay home and wait for the checks.
My neighbor whose apartment has indoor plumbing and tiled floors, a luxury in this mud hut village, showed me pictures of her husband who's been in Malaysia for four years. It wasn't clear if he was making or selling the pottery he was sitting behind. I asked her if she had ever visited. She said of course not. Then served me a deep fried snack with tea (the tea is boiled in milk and strained through a filter).
When I left the fueledbyrice team in Kolkata, I joked that they would have fabulous adventures biking the Himalayas while I got fat down south. This was an omen.
But like I said, it's a good thing fatness doesn't matter in rural India. Even if I had the trimmest little body, I would be asked to cover it up in a sari or a salwar kameez or at least a scarf.
Cycling everyday with men for 6 months, I haven't felt my womanness in a long time.  And I like my womanness. I come from the land of consumer feminism where women make enlightened investments in cosmetics and fashion to procure their youth and sexuality so that they feel empowered.  A recent Citibank ad in which a woman used her kitchen as a closet pinpoints this new postmodern feminism: I'm too hot to cook.
But after visiting Brian Heilman's Muslim village in West Bangal, where I caused social havoc by wearing a fitted shirt, a below-the-knee flowing skirt with leggings underneath, AND a scarf, I was sharply reminded that yes, I do indeed have D-cups, and yes, they do cause erections.   Men in another village were calling Shabnam's (Brian's boss) cell phone complaining of their discomfort.
Things haven't changed down south, where people are mainly Hindu, more educated, and said to be more socially relaxed.  My co-workers gasp whenever I wear Western clothes and they beg me to wear a scarf when the male staff are around.  
I am no anarchist. If I want to understand a culture and the reasons behind it, I have to abide by its rules. I have to suspend my disbelief and let it unravel itself to me on its own terms. So I am giving myself time to fumigate my innate annoyance at the irony that men's owns inability to control themselves is made the responsibility of women. I am waiting for the day that this salwar kameez and scarf feel less like the infernal insides of a camel's colon and more like a natural more modest extension of my skin.
Maria, Brian's roommate from New Jersey, said, that after a while, she felt naked without her full dress. I am too starting to feel odd whenever I walk to a kiosk to buy soap or the newspaper without my curves hidden. I don't know if the cause is modesty or embarrassment or guilt. Sometimes, I don't know what is right or wrong – a salwar without the scarf? A scarf over the T-shirt? Surely, I can't wear the same two kameez's every single day. It's hard to feel sexy in a shapeless dress. Maybe I am oversexed. Maybe I should pretend I'm a Japanese meiko, and that sexuality is all in the mind.
Maybe I should just stay home and drink tea.
The women elected members of the local governance[i] with whom SCORD, my NGO, works, would shake their heads and yank me by the arm out the door. They are the leaders of self help groups (SHGs) which empower women by giving them a platform to support each other, address their issues with a unified voice, save money and receive loans for group and individual enterprises, train in income generating skills, educate themselves on their rights.
 In such a patriarchal society, these women have had to work through that icky feeling of having done something wrong every time they left their homes to attend a meeting.
During the formative stages of SHGs in Tamil Nadu (a leading state for women's rural development) in 2002, women regularly faced teasing and hissing when they "dressed up" on their way to meetings.  Their mother-in-laws refused to take care of their children while they were away and asked blankly, "Who will cook when you are out there organizing?"Their husbands were interested in what, if not money, they were going to get out of it, and didn't want them to go to another village to attend the meeting as they were often organized by the male directors of grassroots NGOs.
Yet, these women blasted on. Their need to control of thier livelihoods and the future of their children outweighed the odd feeling gurgling inside whenever they did something out of the norm.
It seems that everything about the unofficial marriage system is set for men's ultimate domination: a woman must pay a dowry (which is illegal but still immensely practiced even in the cities) to the groom, which must be sufficient to avoid the wrath of abusive in-laws, she must move into her in-laws house often in another village and so is cut off from her own family, and a bride is preferred to be at least four years younger than her husband, and less educated.
Even the heavily clothed, ankle length sari seems the Indian equivalent to the impractical Japanese kimono in its symbolism of planting a woman's feet firmly in the house.
Still, some resourceful women work it by pulling their saris up around their thighs while working in the fields.  In the absence of husbands who have died or migrated for work, many women take up farmwork. Economic demands in a newly globalized society, much like industrialism during WWII in the US, are pulling women out of the house and into the workforce.  SHGs or sanghas (the rights-oriented term) have become a necessity for these newly employed heads of the household to defend their rights and demand their needs.
Women's rise to local governance in rural India, the only place in India where women's leadership is a de facto reality with a 33% reservation fully implemented and taken advantage of (in Nagapattinam, a tsunami hit district, women make up 47% of the local governance), have extended those strides out of the home and into banks and classrooms and the offices of politicians.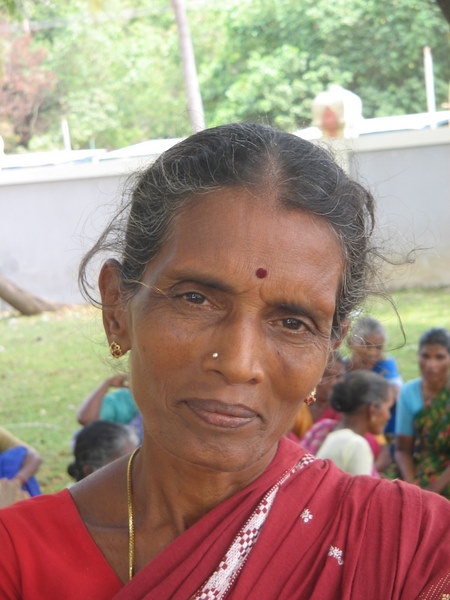 Kanika Kaul, the Tamil Nadu state project co-ordinator of The Hunger Project, an international NGO that promotes women's leadership and a ground up approach versus aid giving to development, said that her organization promotes women because they are the one's at the basic level of society who would therefore understand society's most fundamental needs the best.
Her organization has partnered with SCORD for three years to help rebuild the tsunami affected district of Nagapattinam with a stress on strengthening the local Panchayat and women's leadership in such.
According to Kanika, women will fight for education because women know what its like to be deprived of their education as children. They know what its like to be dependent on their husbands and in-laws because without an education, there are very little jobs they can do. They want their children to have more opportunities. Women will fight for healthcare because they are the ones who have to take their children to get immunized at  local public clinics. Women ask for clean water tanks to prevent illness in their families.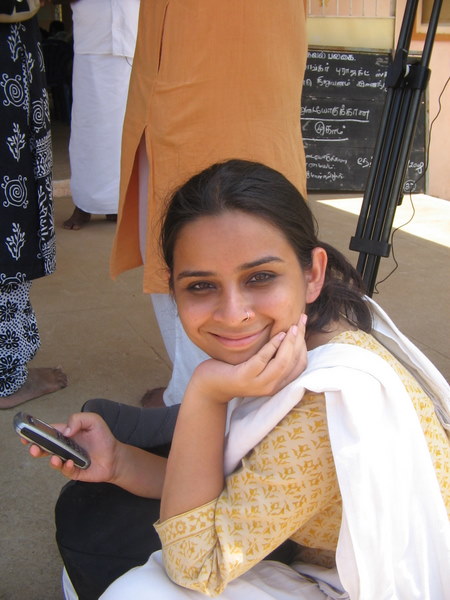 At the recent Gram Sabha (monthly Panchayat board meeting) in Nagapattinam, men board members pressed for better infrastructure and electricity to fuel the economy.
At a recent SCORD organized women's leadership workshop, Panchayat women board members pinned alcoholism as an economic problem. They, the ones who balance the books at home, have done the calculations and deduced that their husbands' chronic profligacy of 50 Rps at the wine shop, half his daily earnings, is driving their families, the village families, into perpetual poverty.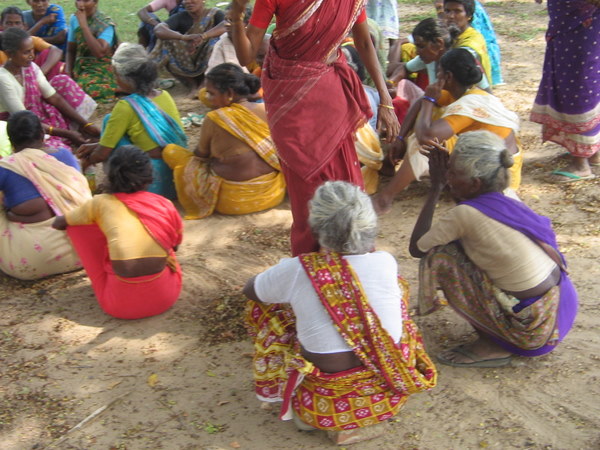 At this level of development at least, it seems as though men are concerned with the bigger structural problems, while women look at the problems that are more intimate and practical. And in this way, more sustainable.  More responsibility is put on the shoulders of the needy rather than victimizing them into a perpetual position of asking for aid. Not that demanding one's due benefits from the government is wrong, but until people understand what they really need as opposed to what they want, they won't know where to properly allocate those benefits to procure real development.
Perhaps it is my womanness crying to be let loose from the swaths of cloth I must wear to stay modest in rural India. Maybe it's the fat rolls. But sitting at this workshop and watching women work in a country where women's leadership is not to be taken for granted, I suddenly felt a powerful sense of sisterhood. That maybe the womanness I was seeking to emblazon, the take-back-the-stilettos sex-powered feminism, was out of place.
Here, womanness lies in the powerful position of the traditional wife and mother, who understands society at its most basic level, because she lives at its most basic level. She knows how to manage its most basic resources so that they last, so that they benefit women, men, and children.
Here, a woman's body image lies in its ability to provide for her children.
Both feminisms, and I do dare to call them that – the sex-powered modern and the subservient traditional woman – are valid as they are crafty. They both embrace the man-authored roles that have typically relegated women to subordinates and sexual objects respectively.  They've willingly donned the aprons and the mini-skirts, but have inverted their roles into a female directed design in which women decide how they will play the cards they are dealt.
Like African Americans have changed the word "nigger" (at least among each other) from degradation to endearment, like GLBT individuals now use the formally degrading "queer" as a cool term to describe sexual ambiguity, women have taken a bad thing and made it good.
Identity inversion.  Fat you're matter doesn't it.   It doesn't matter if you're fat. Being fat is phat, yo. Love your curves, they love you.
It's the exposure, the experience of the opposite, the possibility of an alternative, this widening of scope that gives us perspective on our lives. For the consumer-feminist who invests in diet-crazed beauty magazines to empower her sexuality, it's sobering to know that real women invest their energy and money in bigger issues than the size of their waists.
---
[i] Sorry for the annoying usage of this seemingly contrived word. But "governance" is a term specific to Indian village leadership because, being so far removed from the central government decision making, and so reliant on non-governmental structures like grassroots, national, and international NGOs, youth groups, school groups, federations, self help groups, and sanghas (rights oriented SHGs), the term government is actually inaccurate, misleading, and non-inclusive.