Deprecated
: preg_replace(): The /e modifier is deprecated, use preg_replace_callback instead in
/var/www/html/0708.fueledbyrice.org/public_html/blog/wp-includes/formatting.php
on line
74
After a few months of being the first one to depart from the bike ride with the reason of "girlfriend" topping the list, or just being the first sensible one some mothers may conclude, I have found time to both reflect and slowly slip out of the lifestyle of the cross-country biker. I often find myself diving into my days work, planning weekends, trying to keep up with reading, politics, news, planning for my summer trip to India/Tibet (which i think will be more of an India/Nepal trip with the current political situation in Tibet) and attempting to keep up relationships with family and friends. I also however find my mind wandering back to where the others are and what they are doing. I am often asked what my plan is and if I will soon be entering what some people have defined as "the real world." Regardless of what the producers of MTV tell us I'm not exactly sure what our society defines as "the real world", however I get the feeling it has something to do with a cubical, a mortgage, and yard-work. All of which are fine but after spending five and a half months biking across eastern Asia I haven't been ready to just jump into that yet.

My mind will often wander, to the other side of the world. To the interesting people I met, to the ones who treated me like family, to the one's who tried to take advantage of me, to the one's struggling to support their families, and to the one's searching for meaning in life. One thing that traveling has done however is that it also provided me with material to compare my own culture and world to. Minneapolis Minnesota is truly a unique place, even if it is spending the weekend mowing the lawn. The truth is that most people in this world don't do that. I find myself viewing people I meet here in the Midwest as much more interesting than I had with my know-it-all attitude after graduating high school. Overall I'm pretty proud to represent the Midwest, and am not afraid to flaunt it. People have suggested to me before that when traveling I should tell people that I am from Canada to avoid the assumed stereotype that goes along with being American. Even though I have nothing against Canada I would be much more ashamed to not admit that I am from the U.S. I question how any one's perception on the world would ever change about my country if I can't represent it in a way as I see as fit. I feel I am a good enough representative and ambassador to talk with people in other countries about issues that relate to my country, if not I don't have much business traveling. Secondly in most of my travels I haven't really gotten too much negative feedback about being from the U.S. Sometimes the issue of politics is brought up but people are generally very understanding in separating a person's personal life form politics, they too don't always believe in all of their own government's history.

Things that have stuck out since i have been home, or that I find somewhat quirky about America, include but aren't limited to the following…

Consumerism - Gee gatz do we (including myself) consume a lot. From transportation, to recreation, to food, to our homes we consume one heck of a lot of goods. And as obvious as it is to anyone living in the U.S. I find myself hyper-sensitive to it. What others do doesn't offend me, it's a matter of comfort and who is to say people don't deserve to be comfortable? Especially once someone is used to living a specific standard of life-style and that life-style is the norm for an entire population. Our society revolves around consumerism, buying, selling, buying, using, throwing away, buying, selling, it is a dizzying endeavour. I can't quite yet fall comfortably into it without feeling just a little guilty. I try to live a low impact lifestyle but find myself constantly comparing my lifestyle to ones I have previously led and to ones I have previously seen. I believe there is a balance between consuming and living comfortably that can be met by just being conscience about how we are impacting our environment and each other. Just being aware of our impact helps us reduce when possible, even if only a bit.

Being Green - Since I have come back I have noticed a huge tend to think "Green" Woohoo! I hope it isn't more than that, a trend. I think some businesses are taking advantage of it and advertising as "green" even when they could do way better, but at least it has the potential to start changing minds. Right now as most of you know the gas prices in America are reaching about $4.00 a gallon, fine with me, let em' keep going up. The only way people are going to change their attitudes is by affecting their pocket books. You won't hear me complaining about high gas prices, besides, they are still about half as high as in Europe. One thing I don't think some people realize is that not only our environment is at risk with our dependency on foreign oil but our national security as well. So to those politicians promising to "lower gas prices" and without clear plans for taking care of this problem but bolstering their stance on national security because they can go into the middle east and fight a war, shame on them.

Lately I think of the saying "Think globally, act locally." We must start with ourselves in order for there to be a change worldwide.

Some of you may be wondering if since I've been back in "the states" if I am able to bicycle much anymore. The answer is yes, I do get the chance to bike and often. I know there are many reasons to bike but I personally use biking as a means to commute. I currently have two jobs, one being about three miles from where I live and one being about 14 miles from where I live. I have access to the cedar lake bike trail nearly the entire way into downtown and the green-way is only a short way off. I still end up having to drive twice a week or so but I try to bike whenever possible, mostly because I truly do enjoy it as a socially just way to get around.

Another hobby of mine as some of you might know is fishing and earlier this spring I decided I needed a canoe. So for the past month or so I have been both pedaling and paddling on a regular basis. In order to keep the non-carbon emitting theme alive i have designed and built a bicycle trailer for my canoe to be pulled behind my bicycle and yes as you can imagine it is quite awesome. It probably weighs about as much as the band wagon but at 15.5 feet the canoe takes a little wider turns. Once I get going it really isn't too hard to move, but you do feel it on the hills. I am two miles from Cedar Lake, which connects to the lake of the isles and Calhoun right in the heart of Minneapolis (which also happens to be stocked with walleye and muskie) People love seeing me ride and offer lots of support. When stopped people love to check out both the canoe and trailer.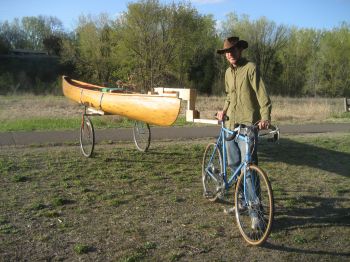 Overall I do miss biking, meeting new people, staying in small villages, being swallowed by huge cities, and never knowing what the next hour will bring.

Thanks again for all the support, and I can genuinely say the other's still biking seriously rock, let's give them a round of applause for finishing the "Asian" portion of the trip, seriously, they just biked across Asia!!!

ps.
Also in case you forgot here are some other St. John's alum who recently finished a bike trip across Tanzania. http://www.hangaabbey.org/index_files/overview.htm