Deprecated
: preg_replace(): The /e modifier is deprecated, use preg_replace_callback instead in
/var/www/html/0708.fueledbyrice.org/public_html/blog/wp-includes/formatting.php
on line
74
In Istanbul, we performed music on the street for the first time - as street performers and not, well, village and home-stay performers as we had in Asia. People in Asia often seemed to be more interested in looking at our strangeness and talking about us rather than listening to our music. Istanbul marked our biggest transition - in living standards, culture, and continents, as well as attracting audiences that stopped and listened simply because they honestly wanted to hear our music for what it is and not just stare at our foreignness. It was new and exciting for us to play in this dynamic environment.
And for the first time on the trip, we earned money…more than we ever thought possible from street performing. Although no city thus far has been more fruitful than Istanbul, we have been earning enough money from our music to pay for all of our food - one of the most amazing blessings we have been given on this trip. It does help that we never eat in restaurants and keep a simple diet of bread, dairy, and vegetables.
Another blessing is the people we have met while performing. Ignatius and Louise, two professional photographers from Brazil, found us our first day on Istanbul´s famous pedestrian street, Istiklal Street, in Taxim, when we were brand new to European street performing. Their excitement and patience - staying with us over an hour before we stopped so they could talk with us - greatly encouraged and emboldened us in our new career. They were so kind to take the time to compile these photos and one of our songs in this presentation. We are humbled and grateful for such a beautiful composition. Unfortunately, Jim missed these days performing in Istanbul because he left early with his mom to meet up with his sister who came to visit. You can use the mouse to scroll through the photos.
You can find the original slide show in it's own window here.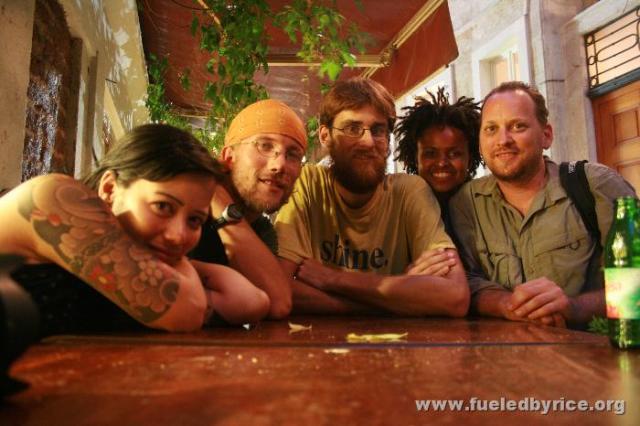 With Louise and Ignatius in Istanbul