Deprecated
: preg_replace(): The /e modifier is deprecated, use preg_replace_callback instead in
/var/www/html/0708.fueledbyrice.org/public_html/blog/wp-includes/formatting.php
on line
74
The gourmandizing began almost as soon as we landed in Chicago.  Andrew's family met us at the airport.  We avoided the irksome task of putting our bikes together at the airport and the ride to our host-place in the dark streets.  Instead we loaded them into the back of the Spidahl's truck and went straight to a Chicago deep-dish pizza restaurant.  I ate and ate until I was stuffed.  Yet, it was only by summoning a great amount of self control that I avoided snatching bits of uneaten crust off Dr. Spidahl's otherwise polished plate.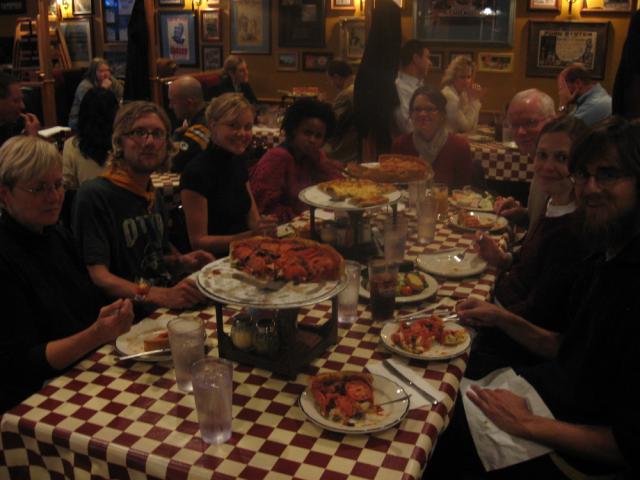 At the pizza place.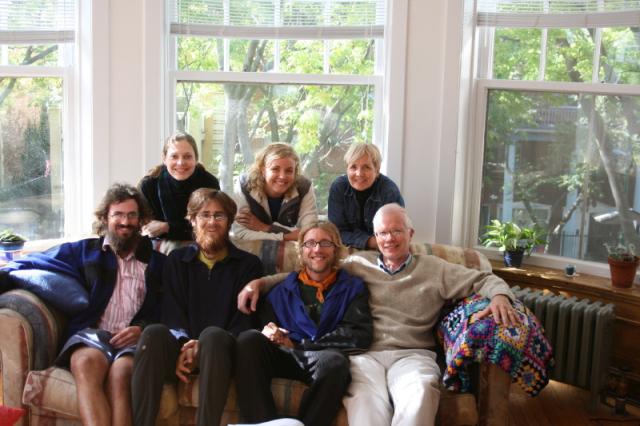 The pulchritudinous trio behind the couch: Kate and Drew's sister and mom.
Kate Ritger, our host for the next couple of days, brought us back to our roots by preparing broccoli in a peanut sauce with rice.  We gobbled that down, only to be taken out to dinner a few hours later by my Uncle John and Aunt Jodi.  We tried to demonstrate our enjoyment of the food by consuming it all, but our efforts collided with our full stomachs, and a side of fries went almost untouched.  Later at the prayer dinner at De Paul University at which we fielded questions about the trip, we couldn't even think about eating.  Later, at a presentation on the election, we managed to find room for complimentary brownies and chips.
Jim with Uncle and Aunt, post hamburger.
On our third day back in the U.S., Pete's high school friend Molly and her husband Matt prepared a mountain of pasta for us.  The next day Nakia's birthday feast, prepared by our second Chicago hosts Amanda and Woody, graced our stomachs.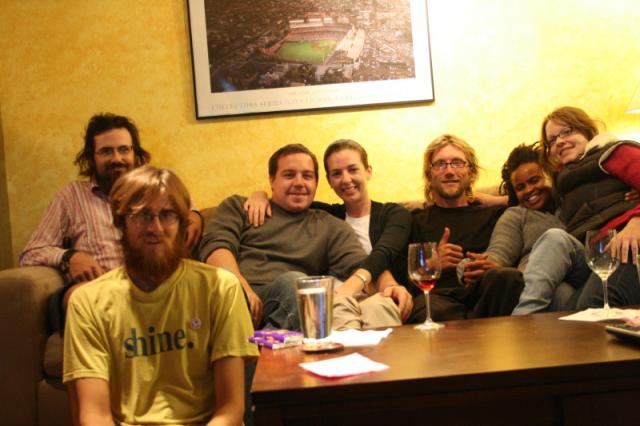 FBR with Matt and Molly and Amanda
Before we knew it, we had left Chicago for Wisconsin.  We landed in Beloit, or almost in Beloit.  I was off on the distance estimate, and it seemed we wouldn't be able to meet up with our friends the Klocke's who reside in that prestigious town.  Luckily, however, Dan Klocke saw fit to drive out at dusk and rescue us, or at least some of us.  The rest of us, having passed on the burden of luggage to Dan's car made it to the Klocke residence in no time, where Catie treated us to two pans of stuffed pasta.  She harbored no illusions about FBR's capacity for caloric consumption.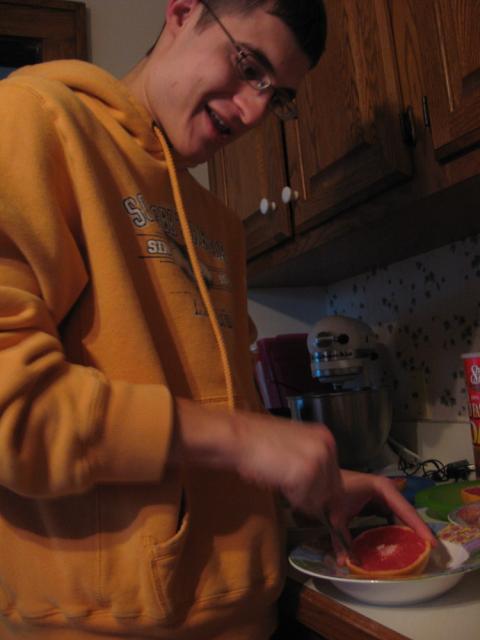 Dan manhandles a grapefruit.
The next day found us in Madison, at Jen and Xavier's, where we received more pasta and homemade cheese (for this we thank the Kutters).  The prestigious gardiners, Ryan and Jenny, also saw fit to buy everyone a Mediteranean lunch the following day.
In Madison, Pete's cousin Todd biked with us on our first day out of town.  He helped us find a campsite in a dense line of trees and summoned his girlfriend, Erika.  She drove out to collect him, but brought with her a huge pot of beef stew and a salad.  We partook of this pabulum with our guests, sitting around our campfire and listening to fascinating tales of scientific outposts in Greenland .  It was the first time we've ever hosted anyone at our campsite-at least since Cambodia.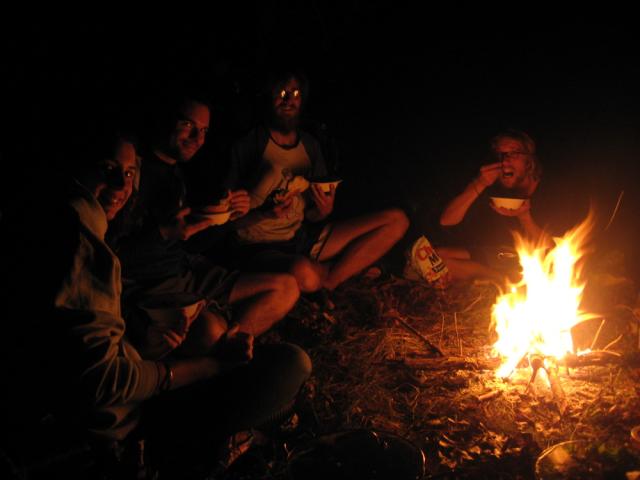 Now we're in Western Wisconsin.  Andy and Karolanne hosted us at the former's countryside home two nights ago.  Last night Karol Anne cooked for us again even though she had night class.
Drew diving into stew courtesy Karol Anne.
 Tonight we had the incredible fortune to be hosted by Jane Steingraeber at a potluck of veritable who's who of the La Crosse CSBSJU community.  There was so much food I forgot to take a picture. 
We certainly don't deserve any of this special treatment, but so long as people see fit to provide it, I'll sure waste no time gulping it down.  Thanks everyone!