Deprecated
: preg_replace(): The /e modifier is deprecated, use preg_replace_callback instead in
/var/www/html/0708.fueledbyrice.org/public_html/blog/wp-includes/formatting.php
on line
74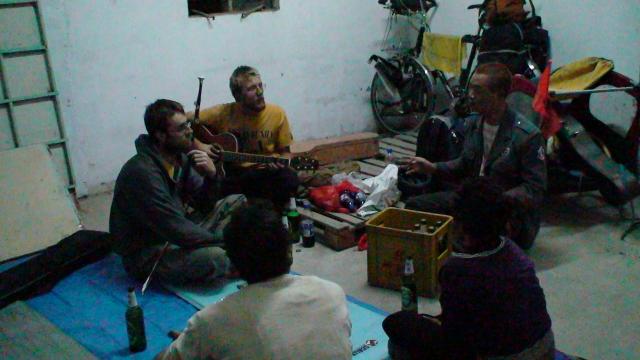 Before we arrived in Hong Kong, or the fragrant harbour to translate the name literally, our last 4 to 5 days of biking had been almost all downhill, funneling us ever toward the coast and finally ending at She Kou, a port city wrapped in the chaos that is ShenZhen and just across the way from Hong Kong's new territories.
We found the ferry terminal pretty easily, concluded that in fact we would be able to put all of our gear on the boat (for an extra 5 US dollars per bike if we carried them on ourselves) and then took off to look for a place to stay.  The area right by the port was very developed for China and the effects of the spread of Hong Kong's wealth was very apparent.  Other foreigners could be seen being bussed in on huge tour buses, led off in a daze and shuttled through line in order to get onto the next ferry, we watched.  Both baffled and concerned looks turned the necks of both travelers and the ferries employees.  One rather tall almost slender man in a leather Harley Davidson jacket and a thick Australian accent asked us if we were doing a bike tour, our answer of course was yes.  He promptly told us he liked to stick to taxis and buses.
We began biking back up the hill towards the city in order to find a place to stay.  Even though it was developed this area has seen an influx of millions of migrant workers in the last few decades and there must be cheaper places to stay other than the obvious large hotels in the area.  The city of ShenZhen is a rather unique place.  In 1979 then Chinese leader Deng Xiaoping declared it as China's first economic free zone, opening a tidal wave of foreign investment and business.  People soon began to arrive looking for work and opportunity.  From a small coastal fishing village ShenZhen soon grew to millions.  Today there is an official population of 9 million but the surrounding area brings that up even more.  The average age is less than thirty, and a major problem is that people do not possess the hukou, or resident card, making work difficult or illegal.  I personally knew a number of people moving to ShenZhen after graduation when I worked in Changsha, I still know of one there today.  
People from all over the country of China fill this city, with little or no family, friends, or social network.  Crime becomes a problem, prostitution is a problem, and disease can become a problem, in fact the SARS epidemic first started in this region and quickly spread among workers stacked in housing and dormitories with few health precautions or health education.  The book China Syndrom by Karl Taro Greenfeld discusses both concerns of this city in detail and the SARS epidemic.
Although the night before we had stayed in factory style dormitories, a cement room, a spicket to wash in, we were lucky enough to find another option that turned out to be a great experience. 
We were asking a young man if there were any inexpensive Luguans in the area and he mentioned a few.  After talking with him a while though he said he knew a place we could stay and we should follow him.  He led us back to an apartment complex, he riding an electric bicycle, a common mode of transportation in China, and us on our bicycles.  We stopped in front of a steel garage door, it opened into a large cement garage, two rooms were made in the rear out of plywood dividers, there was more than enough room for us to put our bicycles and sleep on the floor with our camping gear, we said it looked great, because it did, and he showed us a good place to eat dinner.  Although he did not want to eat with us he said he would return, which he did after our meal to bring us back.  We returned, set up "camp" and began to talk. 
His name was Zhou, he was 24 years old and part of the Yizu 彝族  minority group one of the 55 recognized groups by the Chinese government.  Because of this he told us he was given a few different benefits that other Han Chinese are not.  He gets extra vacation time on his minorities holidays to go home and visit with family.  He also gets a small amount of money from the government.  For two years he worked in the military in Tibet.  Although he didn't like it much because the weather was too cold.  He then lived in Malaysia for a while, then moved to ShenZhen.  He works two jobs and lives in this building with his girlfriend.  He is a security guard at a nearby location and also delivers tanks of natural gas to people by means of his heavy duty 28 inch bicycle.  Not too long ago he got injured at work and was sent to a hospital in Macau to recover, a rare thing among common workers, and he told us we should go there to visit if we get a chance. 
He crossed the street and brought back peanuts, Pepsi, a case of beer, and a few people to look at us.  We sat on our camping mats, chatted, played music, and ate snacks.  In the morning we got up early in order to make it to the ferry on time, he was up already though getting ready to go for a run.  In the military he had to run 10k a day, he now runs 5k every morning to stay in shape.  We graciously said thank you, offered just one more time to give him money which he would not accept, and then biked off to find breakfast and our way to the ferry.
We encounter all kinds of people everyday, and when someone goes out of their way to help us, especially when they don't have a lot to start with themselves it really speaks loudly.  We are expecailly thankful to people like Mr. Zhou for giving us insight into their lives and offering us a very uniqe experience.