Deprecated
: preg_replace(): The /e modifier is deprecated, use preg_replace_callback instead in
/var/www/html/0708.fueledbyrice.org/public_html/blog/wp-includes/formatting.php
on line
74
How we came to be there
I had the great fortune to be acquainted with the much-esteemed Brian Heilman while at St. John's. Having fallen in love with India (if not an Indian woman, yet) he was sponsored by the American India Foundation to work in India for a year with a grass roots organization, Street Survivors India.
As he was located in a small village just north of Kolkata, and as I had a standing invitation to his home, we decided to drop by. We were enthusiastically welcomed by both he and the leader of his organization, a woman named Shabnam, another volunteer, Maria, and all the village people of Katna.
Concert!
Not only did we find ourselves with a room and an outstanding dinner and a few free lunches, but Shabnam actually scheduled us to play a concert for the village. Tarps were spread on the ground and Christmas lights draped from the trees. We even had a couple of microphones.
Several dozen minutes after we were scheduled to play ("Indian time" explained Brian) the courtyard was crowded with children and sari and shalwar kamiz-clad woman while men in tank tops and t-shirts lurked in the background. Brian started things off with a couple of solo numbers, and then with the help of Shabnam, FBR took the stage.
Our audience (the largest formal gathering we've played for), listened attentively and apparently appreciatively. They had never heard our style of music before, but with Chubnam's translational help, we managed to keep everyone's attention.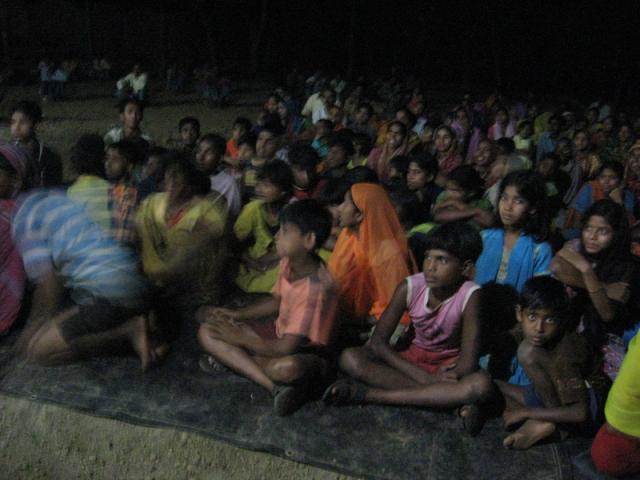 The audience.
All evening storm clouds had been rushing in and a stiff wind sent the Christmas lights swinging in the breeze.  After six songs, we wrapped it up and let everyone get home before the weather broke.
A Village tour 
One evening Brian and Matiur, the Bengali teacher at Jalgriti School and a great poet, took us on a tour of the village.  We were followed by a troop of rambunctious children.
 Matiur pointed out the government-run school.  Children show up in the morning and play games until noon when they are served lunch by the teacher.  Then they go home.  The free lunch program started by the Indian government has thus increased nutrition among children but reduced education levels.
Across India ration agents sell food at reduced prices to folks with low incomes.  However, many of them use their power to trade ration cards for bribes, thus misdirecting the cheap food away from where it is needed.  Riots erupted across rural India last year in protest of the corruption.
At the house of Katna's ration agent, Matiur explained that instead of riots, Street Survivors India had led an effort to collect petitions against the ration agent, which induced the government to replace him and avoided violence.
When we arrived at Matuir's house, we sat down for tea and biscuits.   He treated us to a reading of his poetry, composed in his elegant Bengali script, which was almost as beautiful to look at as it was to hear read.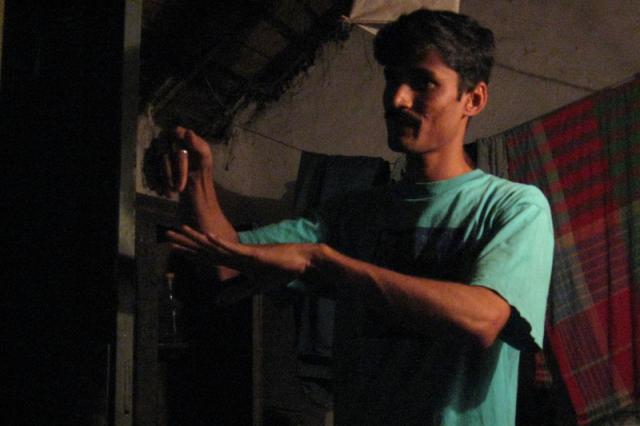 Matuir explaining the subtleties of Bengali culture.
On the way back we stopped at another house and were served an impromptu dinner by our gracious host.  We then sprawled on mats in the courtyard, gazing up at the stars.
Our Hosts Again
For our entire stay in Katna, Brian acted as our translator, tour guide, baby sitter, orderer of food, bargainer, explainer of Bengali culture, finder of lost items, explicater of Hinduism, securer of succor and even roommate, for a while.  Brian wears Indian dress well and has even adopted the head bobble characteristic to that part of the world.  His commitment to the country shows in his reception by Indians and his encyclopedic knowledge of Indian affairs.  We were lucky to have such a host.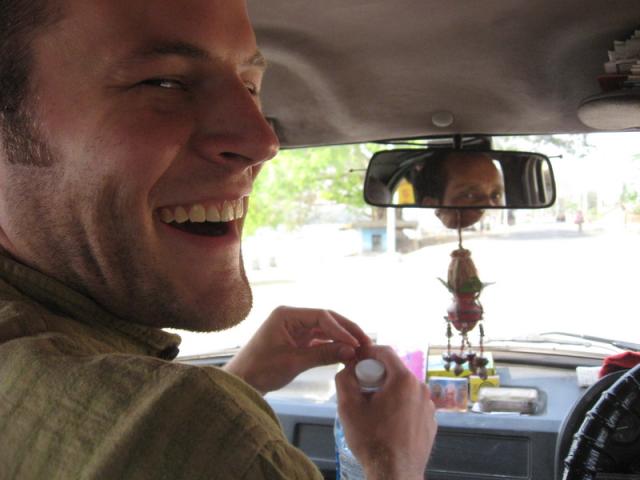 Brian!
We should also thank Maria for her help. She invited us into her classes and also answered no few questions.I am far from being sick of these people I'm traveling with, but the fresh perspectives added by Brian and Maria in our long conversations were appreciated by all of us.
Brian wrote a bit our stay. You can read his account about our stay and wish him a happy birthday on his blog.