Deprecated
: preg_replace(): The /e modifier is deprecated, use preg_replace_callback instead in
/var/www/html/0708.fueledbyrice.org/public_html/blog/wp-includes/formatting.php
on line
74
Shabnam Ramswamy is a middle-aged woman whose constant restless energy belie her real age. She speaks the fluent English of the Indian upper-class, but has chosen a lifestyle not in keeping with her caste. She moved back to her native village and works tirelessly, not on creating wealth for herslef, but on improving the quality of life in her village.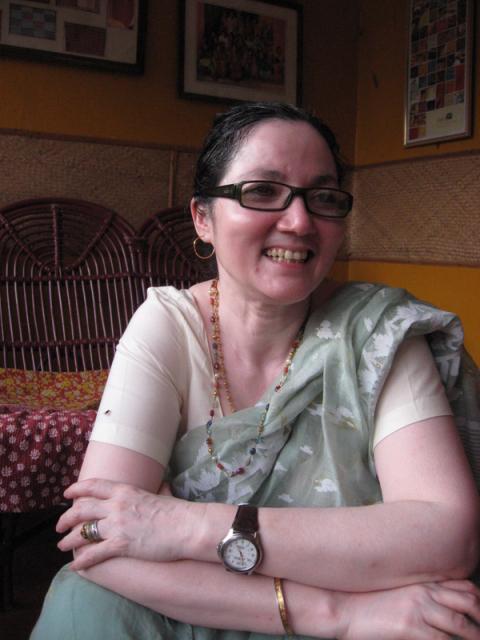 Shabnam Ramswamy.  "Of course, I am very photogenic," she said when I asked to take this picture.
Jalgriti school, an independent, English medium, co-ed school that rises majestically right off the road from Kuli is Street Survivors India's (Shabnam's organization) most obvious effort at improving life in the village. However, other programs include fair trade quilting for women and workshops and other educational opportunities for villagers.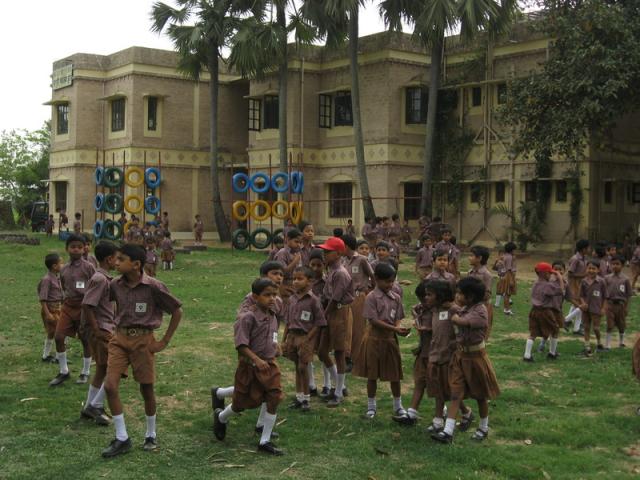 Jalgriti school.
Starting the organization and forging a toe-hold in a rural India deeply seated in the past wasn't easy, and it is largely only due to Shabnam's stubborn personality that she has stayed with her projects. An attempt on her life soon after her return didn't phase her. When her husband tragically died of a heart attack before the school opened, she decided to see the project through to the end.
After the concert FBR played at Street Survivor's Katna headquarters, Shabnam overheard some men wondering at the wealth of the U.S. as expressed in citizens like us who were able to travel so far for so long.  "What makes their country different from ours?" pondered one.  Shabnam broke in, "They are prosperous because they educate their girls!"   She went on to explain in her emphatic manner how a country cannot be great with half its population uneducated.
Change doesn't come quickly in rural India.  Shabnam acknowledges that her project may seem bizarre and over-ambitious in the eyes of some.  FBR can certainly relate, so we weren't offended when she told us: "You are crazy people cycling.  We are crazy people tucked away here.  So it was good we could get together."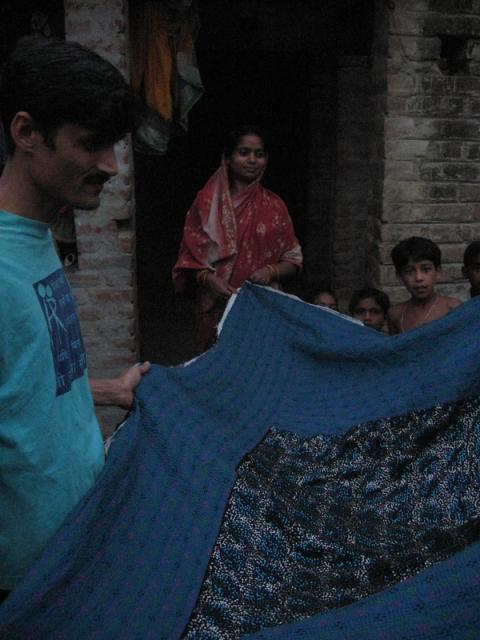 Quilt made by one of the participants in Shabnam's fair-trade program, meant to bring work to villagers otherwise idle.
 One night we came back to find a huge feast waiting for us. As Shabnam explained later, she had to cook as a girl.  She was inspired by Tom Sawyer's effort to transform white-washing into a fun activity, so she immersed herself in the task until she was able to thoroughly enjoy the fruits of her labor.  The results of her effort provided the best food we had yet consumed in India.
Careful followers of Mark Twain may be confused.  Tom Sawyer didn't actually convince himself to enjoy white-washing.  Instead, he tricked his friends into thinking it was fun, thereby not only escaping the irksome task but forcing his friends to pay for the 'pleasure' of whitewashing.
It speaks to Shabnam's power for positive transformation that she took Sawyer's example of deception and was inspired to create good reality.  Not just good, in fact, but delicious.  We can only hope more people follow her example of bringing their talents to actually improve the lot of the rural poor everywhere.