Deprecated
: preg_replace(): The /e modifier is deprecated, use preg_replace_callback instead in
/var/www/html/0708.fueledbyrice.org/public_html/blog/wp-includes/formatting.php
on line
74
Since we've entered Darjeeling district, things have been different. Women actually work in restaurants. People look more East Asian. We're coming in to country occupied by the famous Gurkha's, whose discipline and bravery led to their famous utilization by the Imperial British as a fighting force.
As our lunch host described two days ago, people are sick of the corruption of the Communist Party-Marxist, which has won elections in West Bengal for over 30 years. The Gorkha, ethnically Nepali people who inhabit Darjeeling district, are prepared to do something about it. They have been rallying for some time to become independent from West Bengal and form their own state within India, similar to Sikkom, just to the north.
Just as we were sitting down to lunch, the police in Siligury, the main city to the south, were breaking up a pro-Gorkha-land demonstration going on there. It seems individuals acting independently of demonstrating Gorkhas started throwing rocks at the police, who responded with violence. In the end, more than a dozen people were injured. By the time we finished lunch, a general strike and blockade had been declared throughout Darjeeling district.
We had to ease our bikes past jeeps that were parked blocking the roads. No one obstructed us, but when we finally arrived in Darjeeling town, we found everything closed. Luckily, our hotel was serving food, but otherwise all shops save druggists were closed.
The next day, people took to the streets. A huge line of women snaked up the road past our hotel, chanting "We want Gorkha land, we want justice!". They were followed by an even bigger and louder crowd of men.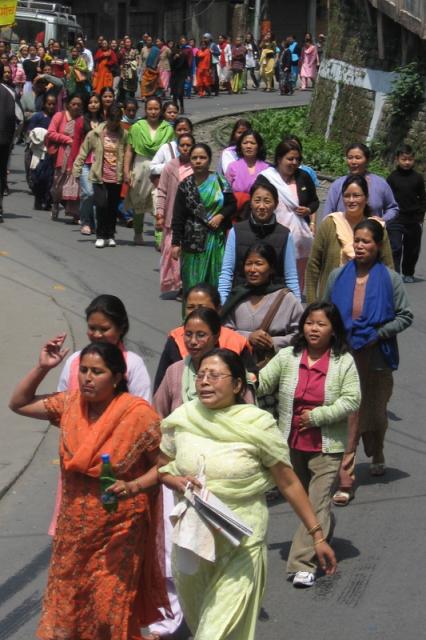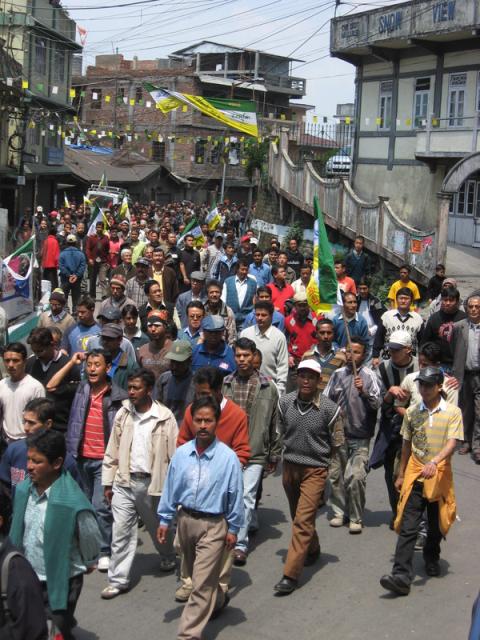 The following day, we were relieved to see the shops open, but it turned out to be the student's day to protest. The streets were filled with girls in pleated skirts and boys in matching ties and suit-jackets with the stereotypical breast patch indicating their school. They chanted and marched with a bit less discipline than their elders had the previous day.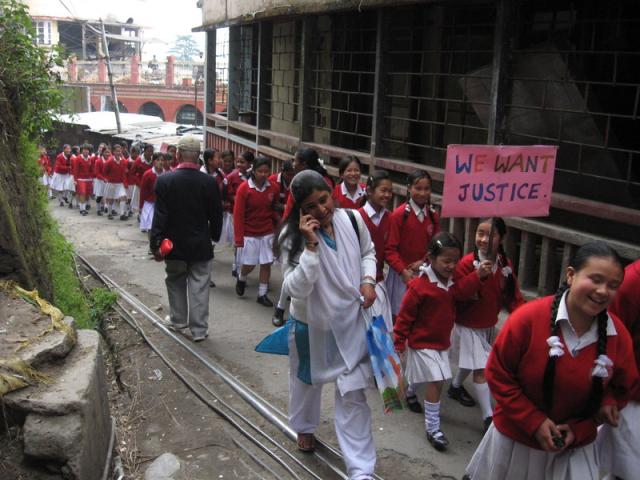 Strikes are a common occurrence in India. I personally don't know enough about this particular situation to take a side, though my sympathies tend more towards self-determination. For now I will be happy to have witnessed a common cultural phenomenon, peacefully expressed political views, and perhaps a bit of history in the making.