Deprecated
: preg_replace(): The /e modifier is deprecated, use preg_replace_callback instead in
/var/www/html/0708.fueledbyrice.org/public_html/blog/wp-includes/formatting.php
on line
74
Deprecated
: preg_replace(): The /e modifier is deprecated, use preg_replace_callback instead in
/var/www/html/0708.fueledbyrice.org/public_html/blog/wp-includes/formatting.php
on line
81
From the depths of slumber I begin to hear roosters announcing the arrival of the morning seemingly before it has arrived. Women are moving about, bringing their water jugs and pots to fill at the iron hand pump within 10 feet of my head. I stir and feel the mosquito net embracing me, everything so far assuring me its just another day as FBR. Looking at the woven bamboo walls plastered with newspaper letting the faint morning light in beyond my net, however, I suddenly remember that this is no ordinary home stay. I'm waking up in a Bhutanese Refugee Camp.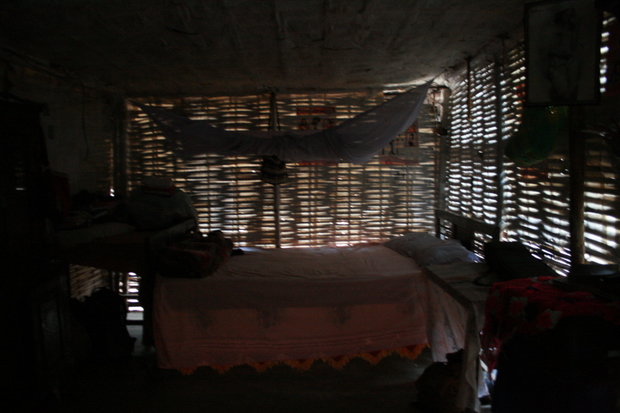 As I slowly get my bearings I remember that this all started yesterday morning at breakfast. I'd prayed that the Holy Spirit guide us to meet the people we were supposed to meet that day, hopefully kind people who wished to help us and from whom we could learn.
In the evening, we stopped to bathe and eat at a small town along Nepal's main east-west Hwy 1 in the flat lowlands. We chose one of many small restaurant stalls that also had several hand pump wells out front. We quickly drew a crowd, curious to see foreigners, including one young man who eagerly pumped water for me while I bathed, and another young man who talked with Drew, named Santhos. When Santhos learned that we were planning to camp in a field that night, he invited us to stay at his church - he was Christian and his older brother was the assistant pastor. I'd learned from a boy who had biked with us 10km before town that there was a Bhutanese refugee camp nearby, and as we followed Santhos on his bike in the dark a bit out of town and up to what appeared to be a rural village, I realized that his church was located within that very refugee camp.
He led us into the center of the camp after getting approval from the guards. We put our bikes inside the woven bamboo church. Santhos' older brother, Mouikumar Maga - the assistant pastor in his 30s - came out to meet us and the crowd of children and other onlookers we'd picked up biking and walking through the camp's bumpy dirt roads. After we briefly introduced ourselves and our trip goals, he invited us to go back to his home for tea, and at our suggestion, music.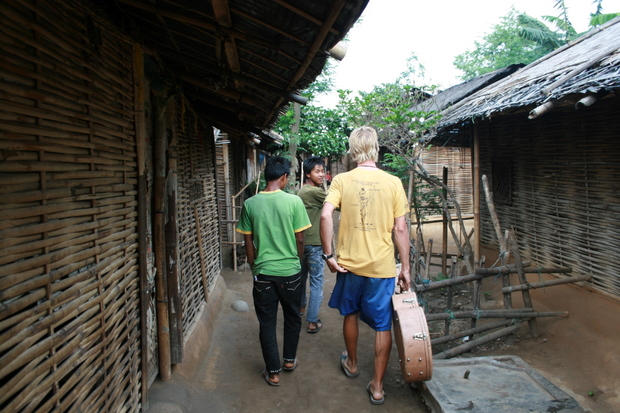 Walking between the homes in the camp
The momentum was rolling along and soon there we were seated in Mouikumar's humble UN-funded, refugee-built bamboo house with swept mud floor and Drew, Jim, and I realized we didn't know anything about their situation. As Mouikumar's wife prepared tea, we began asking questions about Mouikumar and his neighbors in this camp.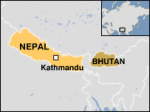 "The political situation in Bhutan didn't allow us to stay, so we came here [Nepal] in 1992 as refugees," Mouikumar starts. He, the other 24,000 people living in this camp and the other 75,000 refugees living in other camps in Nepal are ethnically Nepali. Their ancestors immigrated to Bhutan in the 19th and early 20th centuries as laborers. Instead of casting aside their language and culture to assimilate, the Nepali people living in Bhutan tried to maintain their original cultural heritage including language, dress, and for some of them, their Christian religion. Over time and generations the Bhutanese government became more and more concerned about their lack of assimilation. The issue came to a head in the 1980s when the Bhutan government enacted policies seeking to catalyze the Nepali's integration by not allowing them to study Nepalese in school and persecuting those who were Christian. When the situation was too dangerous in 1992 and they were clearly unwelcome in Bhutan, Mouikumar, his family, and many of his fellow Nepali-Bhutanese decided to flee across international borders to Nepal, at which point the UN High Commissioner for Refugees (UNHCR) stepped in to help by drilling hand pump wells in their camps and providing funding for the refugees to build their simple mud-foundation, woven bamboo houses/huts.
Although preserving their Nepali heritage was important to these Bhutanese, Nepal doesn't feel like home to them and moreover Nepal lacks the social and economic structures to absorb these 100,000 refugees. They and their parents and grandparents were born in Bhutan, making this a situation similar to asking German Americans who have kept their heritage alive to go back to Germany - in the end, they are still Americans and Germany is not their home. After 16 years of waiting with their real lives on hold, the US and several European countries have agreed to slowly accept small groups of families. Mouikumar's older brother, Michael Thapa, was the senior paster of their church. He emigrated with his family to Atlanta, Georgia last year where he is continuing his ministry. Mouikumar and his family recently completed the lengthy UN interview process for resettlement and hope to join his brother in Atlanta in 4-5 months. Mouikumar's neighbors are all on different schedules, but most will be waiting for the foreseeable future before they move out of their refugee camp.
In the pause in our conversation, everyone pondering their situation, them no doubt for the umpteenth time, and us for the first time, Mouikumar broke the uncomfortable silence and asked us suggestively if we brought instruments to play music. We grabbed the guitar, er hu, and bongo drum and he asked if I would open our music session with prayer and said he'd lead the closing prayer. I was struck with how clearly and fully my morning's prayer had been answered, the more than mere coincidence that lead us to be in Mouikumar's bamboo hut living room surrounded by his family and neighbors at that moment. I prayed and we played. Mouikumar plays guitar too, making for a nice exchange mixing secular songs with Nepalese and English praise songs.
Around 9pm, Mouikumar suggested that we wrap things up so the neighbors watching and listening to us could go to sleep. "The 8pm curfue has already passed in the camp, why don't you sleep here instead of at the church." Our sleeping bags, tooth brushes, and change of clothes were all back with our bikes inside the church, but it was a 10 min walk away and technically people weren't supposed to be out anyway. "You can sleep here," as Mouikumar lead us into his own bedroom containing two small double beds. "Oh no no, we don't want to trouble you, and where will you…" Mouikumar cut us off insisting in a way we couldn't argue with. After making sure we had everything we needed, Mouikumar and his wife left us - humbled - alone in their own room in their own beds in their simple home, complete with mosquito nets.
After waking up early, Mouikumar and his wife couldn't send us off without breakfast. The chapati (flat bread) and potato curry was freshly home made and excellent.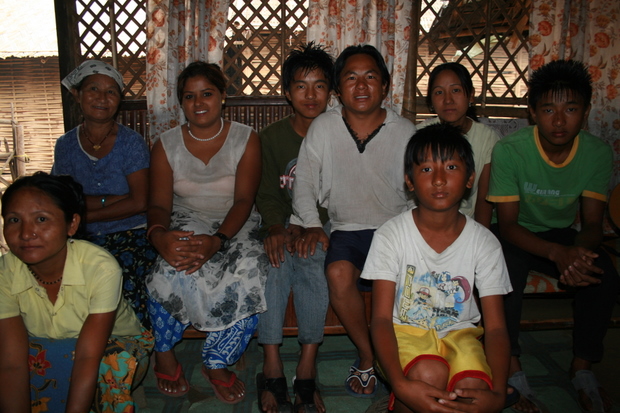 Mouikumar (white R off cen) and his family in his living room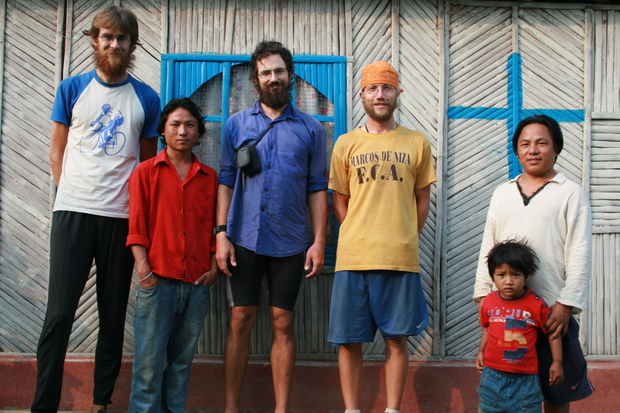 With brothers Santhos (red L) and Mouikumar, (white R) on the side of their church.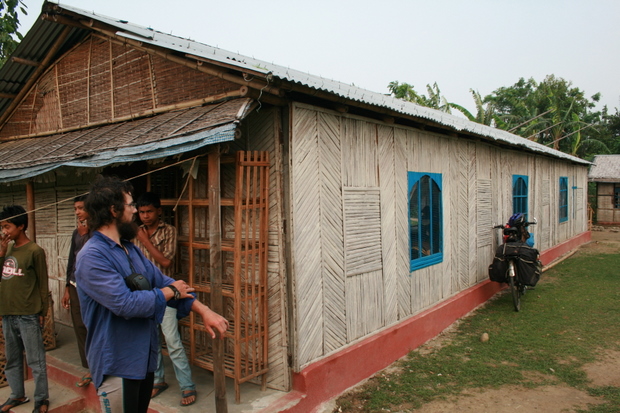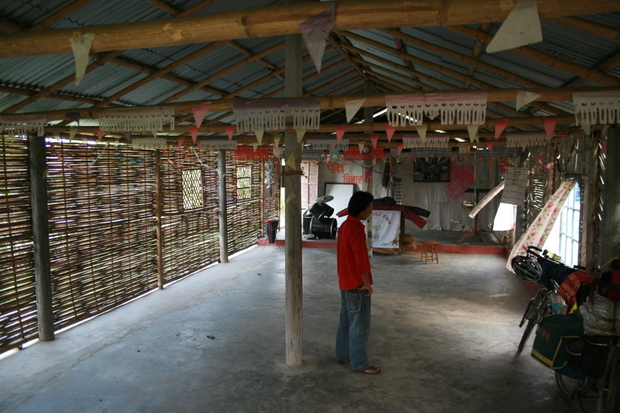 Outside and inside the refugee camp's church, where they let us store our bikes over night.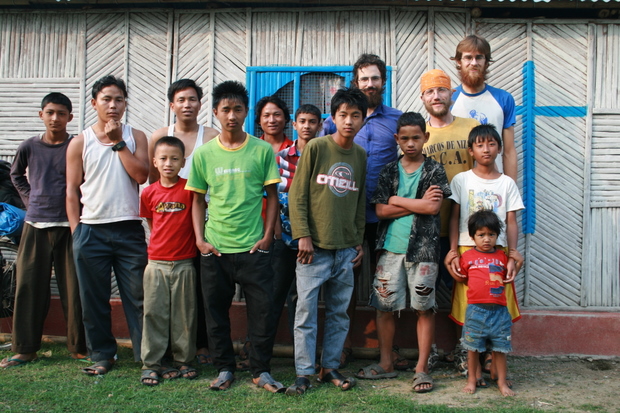 With other Bhutanese refugees on the side of their church.
A big THANK YOU to Mouikumar, Santhos, and their family for the amazing hospitality! I sincerely hope that my fellow Americans will be thoughtful, aware, and empathize enough to extend half the welcome and hospitality the Bhutanese extended to us.
We were warmly welcomed into a refugee camp, shared music, and learned a people's story we previously didn't know about - quite possibly a perfect Fueled By Rice day.
For more information about the Bhutanese refugees' story on the other side, settling in the US, see this related news article:
** From 

Bhutan

 to the Bronx **
Dumeetha Luthra meets some Bhutanese refugees who have arrived in the
 US from 

Nepal

.
< 

http://news.bbc.co.uk/go/em/fr/-/2/hi/south_asia/7372916.stm

 >