Deprecated
: preg_replace(): The /e modifier is deprecated, use preg_replace_callback instead in
/var/www/html/0708.fueledbyrice.org/public_html/blog/wp-includes/formatting.php
on line
74
Typical of any time we tried to stop and rest in the plains of Nepal, we couldn't get away from people. First, the children showed up. They clumped around one of us as we sat on the ground, reading or writing, and would suddenly rush to their next victim with no apparent reason. They sniffled loudly, placed their hands on our shoulders to lean in for a closer look, and demanded I show them the postcard I had tucked into my book for safe keeping.
Later, adults drifted through our rest area in the trees. They paused to watch us at a respectful distance, a few spoke a few words of English.
During the day we cycled through several groups of kids. In the late afternoon, we found ourselves speaking with a semi-circle of villagers. One younger man had the build of a boxer, and constantly smiled to reveal his white teeth. His mother constantly giggled to reveal her delightful personality. They asked if we wanted to stay in the village. We protested the normal protestations: we're a big group, we have lots of crap, it will be troublesome for you. We received the usual answer from the shiny-mouthed would-be host: no problem. "First," he said, however, "you play music."
So we got out the instruments. No sooner had we commenced, than a bus stopped alongside the road. Its occupants wandered out and joined the concert. The bus people were city people and spoke excellent English. Our would-be hosts were country folks and spoke a little English. In between songs our hosts lost interest in the long complicated questions put to us by the bus people. Then another bus stopped. Was this a publicized concert? we asked ourselves.
Later, the buses left, but our hosts were gone. We were led to the village by a child. We stowed our bikes in the goat pen. A high school student offered to take us around. He introduced us to various important personages, the old village deputy, the part-time football (soccer) coach.
We wound up at the soccer field, which was being prepared for the district tournament to begin the following day. Andrew wowed everyone with his soccer skills. Then he brought out the frisbee. Hordes of little urchins chased after the soft arcs it made in the sky. They bit and kicked and fought like wild cats or she-devils or politicians or things even worse than that for the privilege of throwing it lamely into the ground.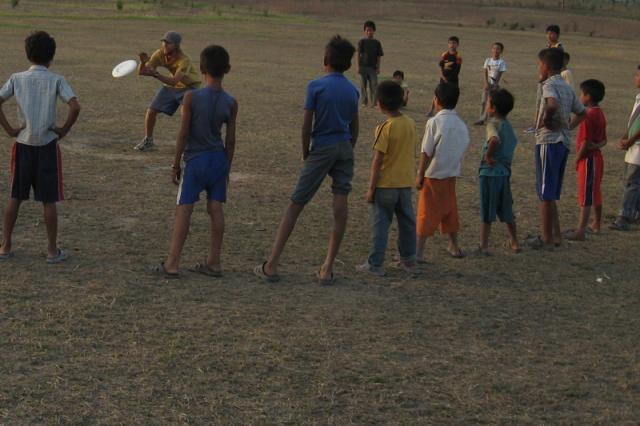 After dark, on our way back to the village, the former police officer blew sweetly acidic declarations of brotherhood at me. "Do you like to drink?" he asked me five times.
We paused for water and instead ate dinner. A huge crowd formed a circle. The drunk constable danced. "Now you dance Nepali," everyone ordered. The constable escorted us one by one into the circle. We tried to follow his dance moves. He girated his hips, wiggled his arms, performed great swan dives on the ground. With me he did a flip, a move I determined not to follow. Hoots and giggles followed guffaws and titters. I got the feeling the constable did this with all the foreigners who came to the village.
We finally made it back to the home of our friend of the bulging biceps and giggly mother. "You eat cow?" she had enquired earlier. We had hoped against hope and indeed, there in the plate was cow. It was the first meat we'd had in a long time. The previous dinner left us quite stuffed, but we gobbled this one down nonetheless, even the seconds our smiling host refused to rescind once she had the pot dangling over our plates.
That night, while our bikes displaced the goats, we displaced our hosts as they had given us our beds. This was the second time this had happened in Nepal. We were touched. We also considered our previous dinner of an ambiguous nature. The villagers were certainly entertained. We were not exactly humiliated. Everyone left happily. Perhaps that is the final measurement of cultural exchange.
The next morning, when we tried to leave without breakfast, the woman who had kicked herself out of bed and spent her beef on us smilingly thrust two huge fruits into my hands. If I ever return to Jamnivas I know who I will be most eager to see again.