Almost one month ago, FBR split up. My mom arrived in Istanbul and was eager to get on the road. In the meantime, my sister and her special male friend Jay had planned to meet us in Bulgaria. You are no doubt familiar with how Pete, Drew and Nakia got stuck in Turkey battling the various Bulgarian consulates. My mom and I headed out on the road, trying to meet Autumn and Jay in Bulgaria. As we made our way out of Turkey we found these folks just as eager to offer succor to travelers as their big city brethren had been.
Escaping Istanbul meant riding through heat and climbing hills. It was a rough introduction to bike touring, but my mom lugged her loaded bike heroically up all the summits and through the terrible traffic. The roads wound a complex web out of the city. I stopped often and asked directions, sometimes biking up or down the road a ways. Inevitably, when I returned, I found Mom sitting in a chair someone had given her and drinking tea out of the crystal glasses in which the Turkish consume that product.
The first night we arrived in Hadimkoy after biking up and down and up and down. Ask my mom. She'll tell you and tell you. We were beat, or at least she was beat. I didn't know where to camp. The town seem surrounded by military bases. We know how well camping on military property goes. There was no hotel in the town.
We clambered up the hill out of town. We found a gas station. The attendent, a sober mop-yielding man seemed to be on the verge of closing. He invited us in to use the bathroom, however. When I emerged, having just spoiled his mopping job, he handed me a cup of coffee.
Next door was a fire station. They had a lot of open space for a tent, and firemen of all countries seem to be decent people.
Half an hour after sunset, we rode up to the gate of the fire station and explained in gestures to the bemused firemen how we wanted to put a tent in a corner of their firestation. Before we knew it, we were sitting in the fire station lounge, hamming it up over coffee with all the firemen on duty. Birol, a solidly built man, put down his tea and pointed to his flexed bicep. "America, firemen, strong!" he exlcaimed. The chief showed us pictures of his grand kids. Yunus quizzed me in passable English on the exact route of my trip so far.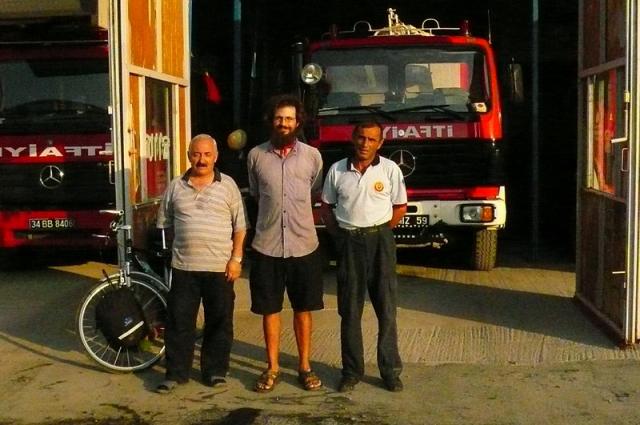 "Douche! douche!" exclaimed one of the men after a while, miming water falling onto his head. "Yes, yes!" my mother clasped her hands together in thanks. She had obviously not yet become accustomed to road dirt. I let her go first, then it was my turn.
When it was time to go to bed, the firemen took us next door to the gas station. Upstairs from the office and convenience store was a prayer room, presumably where truckers or travelers could go to prostrate themselves in private. We lay down on the floor, thankful to have a secure, clean place to sleep.
The next day, a white-haired man in Catalca handed us a bag of apricots and a cold bottle of water. We sat in a park, and he left. What a nice man! we thought. But soon he was back with a steaming plate of sausage and tomatoes. It went well with our bread and cheese. We tried to give him some cookies, but he would only take one as a he had heart trouble.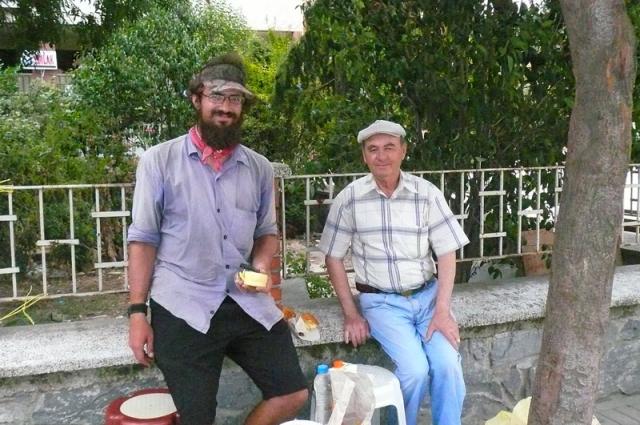 The bearer of Apricots.
Later, a farmer hailed us from his field. I came to a slow stop as he jogged towards us in jeans, clutching a green bundle. He bounded across the road, handed me a few cucumbers, and sent us on our way with a smile.
To top off our crazy experience, we arrived in another small town in the evening to find several English-speaking professionals visiting from Istanbul.  When we asked them about a place to stay or camp, they urged me to wait just a moment.  Then they whisked me behind the tea hall and into a huge room.  "The quality of this room is not so good," said one of them, "but you can stay here if you like."  They had called the head of the village and found the only open room in town for us.  The mosque across the street had a bathroom we could use.
Just as I was about to head to a market to pick up some dinner, one of the men came into the room bearing a huge plate of food.  Stuffed peppers, yoghurt, bread, pastries and tomatoes.  We were speachless.  We met the woman who had made the food (the wife of one of our 'hosts').  She of course claimed it was no trouble to make the food and entreated us to eat.  We were almost speachless, but not appetiteless.  We sat down and made short work of it.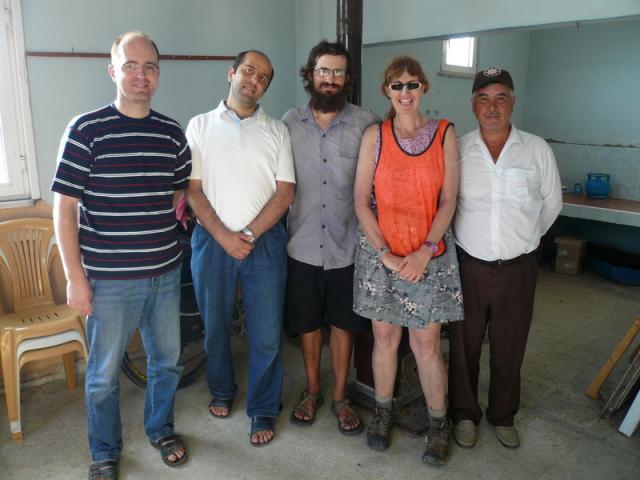 The providers of food and shelter in Sinekli.  That's mom in the blaze orange.
Safety first, and you'd best remember it.
I'd like to end this post on a somber note. Wherever we went in Turkey, we could always count on the police to give us great directions. We could count on our approach bringing a smile to their lips. Then, speaking deliberately they would inevitably determine from our confused explanations where we really wanted to go and guide us patiently on our way. It is the smiles from policemen I first thought of when I learned that three Turkish cops died while defending the U.S. consulate in Istanbul from an attack last week.
The reasons for the attack were unclear.  The motivations of the perpetrators are uncertain, so far as I know.  Maybe they were Muslims, motivated by Islamic "ideals".  However, after experiencing the hospitality of the mostly-Muslim nation of Turkey, I can only laugh at grand theories about the opposition between Christain and Islamic culture.  To the Turks and especially the police, I have the utmost respect and am indubitably in their debt.