In the sleepy countryside in the hinterlands of North-western Greece a few men hailed me from the porch of a restaurant.  I had to ask directions anyway, so I stopped.  They communicated quickly without English that they wanted to buy me a drink.  I was in the middle of a bike ride, guiding my mom safely into Bulgarian, but one ought not be rude, oughtn't one?
Inside the restaurant, the restaurateur poured me a beer as he excitedly showed us how his son was an architect in London.  He gave us his son's card and both his mobile and land-line numbers, just in case.
We sat at a table with three men.  Petros, Christus, and Dimitrus.   Christus' stringy hair fell down his shapeless, bare shoulders.  His chest hair rallied all the way down his pot belly.  It was hot.  The other men pointed at the shirtless Christus, then at my shirt, quite soaked with sweat.  "Take it off!" said their gestures.  "It's hot!"  I unbuttoned it.
In an effort to move on, I tried to drink my beer quickly.  Ha!  They naturally filled it up again.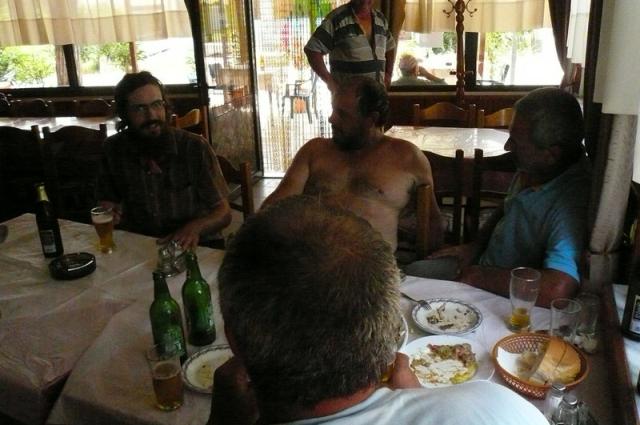 Petros contained his girth, the well-distributed girth of the jolly and formerly athletic, in a T-shirt.  What do you do?  inquired my mom.  What does he do? feined the other two.  They gestured at the table.  Here, he sits, every day, drinking.  Mom gestured at his beer belly.  Shame on you!  They pointed at the beer bottles lined up on the window sill, then directed accusing fingers to poor Petros.  "He doesn't work," said the radio DJ, who had shown up out of somewhere.  "He worked thirty years, then retired," he explained.  Yes! agreed the other men.  Petros agreed too.  "Every day, here I am," he gestured.  He puffed out his cheeks and framed his face and belly with his hands to mime really grand rotundity.  I don't do anything, I just sit here and eat, he seemed to suggest.
But wait!  He jumped up, and pulled my mom to the door.  He pointed outside.  There was a bike!  A cheap mountain bike with full suspension.  I ride bike, he gestured, but I ought to ride more.
I tried to leave.  I got up and shook hands, only to find everyone's ire incurred.  "They are making food, just a bit, very simple, it will be ready soon," implored the DJ.  I sat down, and he told me how he travelled to the America's as a radio man on an ocean liner.
In the meantime the conversation turned to politics.  I grabbed bread and tomatoes, and Petros said "Obama" and held out a thumbs up.  "Clinton…down" he continued.  We agreed.  Even though I am reasonably well informed, I often have no idea who leads many of the countries I've biked through, yet EVERYONE knows and is interested American politics apparently as well and as much as many Americans.
"Obama…McCain?" inquired Petros.  Who would win.  We indicated we leaned towards hoping Obama might find success in November.  "Bush?" asked Petros.  We indicated our distaste for Bush.  He agreed.  Thumbs down all around.  "Obama," said my mom, and mimed peacemaking.  "Bush," she said, and mimed war.  Everyone agreed.  Except Dimitrus.  He sat in the corner under his short hair and shrugged his svelt form.
Petros pointed an accussing finger.  "Fascist!" he proclaimed.  I guess that word has a Greek cognate.  "Socialist!" shot back Dimitrus, indicating Christus and Petros.  "Social Democrat" clarified Christus defensively.
And so it went.  We made merry for the better part of an hour and a half.  I finally managed to turn down more beer and headed for the door, mom in tow.  I managed not to weave badly on the road and soon we wound our way again through Thrace on the way to Bulgaria, thankful for people with enough time to enjoy the afternoon.