Deprecated
: preg_replace(): The /e modifier is deprecated, use preg_replace_callback instead in
/var/www/html/0708.fueledbyrice.org/public_html/blog/wp-includes/formatting.php
on line
74
Written Oct 6th 
We are cozy and snug inside a new friends' home on this windy rainy chilly evening in Epinal, France.  Wandering our way off of our Parisian route southwest from my family's ancestrial home, Climbach, to visit a French friend of Nakia's (whom we just found out will not be home for 2 weeks) we wound up in Epinal, a mid sized French town.  While Nakia, Jim, and I were on-line this morning getting the bad news about Nakia's friend not being home, Drew was meeting new friends working at the City Hall, one of whom happens to be married to 2-time kaiyak Olympian, Manuel DelRey, and all three who love bicycling and bicycle touring.  Bicyclist enthusist, Michel Albert, who biked 5,000km in a 33 day France tour alone last June introduced Drew to Zoe, who after hearing about our trip told Drew, "You are welcome to stay at my house tonight. My boyfriend is dreaming of a world bicycle tour and would love to talk with you. You can eat all of my food!"  (A kind of fantasy world for any Fueled By Ricer's ears!)  Manuel is, actually, already planning a "north pole" bicycle trip from France up through Scandinavia and back for next year…or 3 months of next year.  Zoe also printed off a sign explaining our trip, giving the city's permission to play music on the street, and even encouraging passersby to contribute to help us finish our trip.  Too good to be true, when Drew told us about the homestay offer and asked what we thought, no one really answered, minds and bodies numb from the last week's ride through cold, wet, and windy weather, and night after night of camping in cold damp forests (though also providing wood for fires).  Finally I said, "Are you serious?" 
And here we are, treated as old friends by Zoe and Manuel, now with full bellies from a pasta feed complete with cheese course, showered up (after a week with it too cold to jump into rivers now) and clothes washed.  Just after Drew had talked about wanting a small town French homestay, we get it, even with Nakia's friend's stay falling through.  And Drew has been talking up a storm now as our main French speaker with Jim close behind.  Heck, Manuel also speaks Spanish, finally giving Nakia an opportunity to use her language skills!  Again, we have been provided for, just when we needed it, after 1 week of riding from our last homestay with the O'Keefes in Heidelberg, Germany. 
Unfortunately though, this is only the first homestay in Western Europe that was not previously arranged through old friends or the www.hospitalityclub.org - a fantastic organiztion FYI, I won't stay in hotels or hostels again!  As we have moved into wealthier parts of the world, some people have become a bit colder, a bit more ultra individiualistic, a bit more distrustful, and a bit more dissapproving of our disheveled… I mean well-traveled appearance.  Its sad to see that often people with more give less-often and people with less gave more freaquently in our experience; people in China, Vietnam, Lao, Cambodia, Nepal, and Turkey (though Turkey is quite developed).  Insteresting and disappointing also that this trend is also connected to our moving into Christian areas from Muslim (Turkey), Buddist (SE Asia, Nepal, and China to some extent), and Atheist countries (Vietnam and China).  Gandhi also found Christianity rich in ideas but lacking in practice and application of those ideas in daily life.  I have faith we can do better. 
But tonight, all that matters is that Manuel, Zoe, and Michel are showering us in their love and generocity.  THANK YOU!!!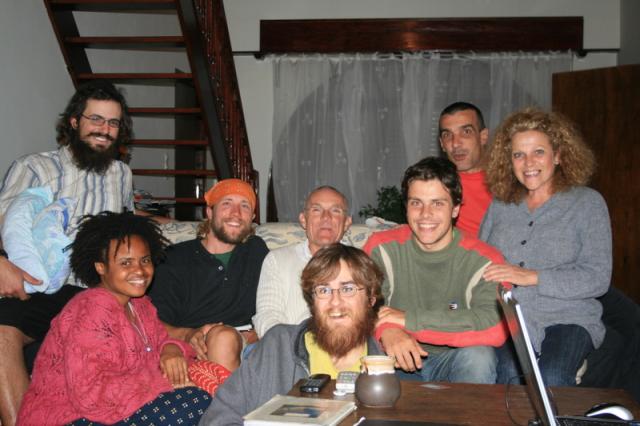 With Manuel, Zoe, their son (far Right), and bicycle enthusist, Michel Albert (center)
Update: When we left, Zoe and Manuel blessed us by wishing us good weather, gentle wind, and a good route. The last two days have been sunny for the first time since Austria. We are now only 120km from Paris and are getting quite excited for our ride in on Weds. Until then, we're going to relax a bit in the countryside with our time to spare. So grateful to be sitting in the sun now…