Deprecated
: preg_replace(): The /e modifier is deprecated, use preg_replace_callback instead in
/var/www/html/0708.fueledbyrice.org/public_html/blog/wp-includes/formatting.php
on line
74
We biked into a soccer field east of Heidelberg around 2:00pm to eat lunch.  A man in thick clothes and clad in a motorcycle helmet greeted me with curiosity, but without a smile.  I prepared to be told that we ought to find some place else to eat.  Instead he said something ambiguous in German.  "Essen," I said, miming the action fashion models disdain.  "Nicht hier," said the man.  My heart sank.  FBR was again being banished on account of looking too homeless. 
Luckily, Drew came over and cleared up our misunderstanding.  The helmeted man thought I meant to buy food.  Of course there wasn't much food to be had in the soccer field.  Once Drew explained the purpose of our peculiar stop, and that we had already purchased food, the man retreated from his motorcycle and searched for a key.  "Don't you want to sit down?" he asked as he opened up the food and drink stand usually opened only during games.   Our legs, used to being cramped and pinned into unnatural angles as we squat or sprawl on the ground, quivered at the site of the table and chairs inside the stand. 
Werner Winterscieid, as we later discovered our lunch sponsor's name to be, hastily swung open the shutters, instructed us to not drink the water from the faucet, and scribbled down his name and phone number in case anyone came by and wondered who authorized us to use the concession stand for a picnic area.  The lights for the field didn't work, so he scrambled about trying to get them on for a game that night.  He kept saying he was going to leave, but instead just wandered around.  He finally did leave, but came back right away.  He offered us each a lemonade beer from a crate we'd been eyeing since we gained entrance into the shed.
He left again, and this time didn't come back till we had almost finished cooking the soup.  Pete used his German to chat with Werner, who not only acted as caretaker for the field, but also coached children's and adult soccer.  He said he enjoyed working with younger kids though he is currently coaching the adult village team.  Once the kids got older things became too serious.  "If the team wins, the players are good," Werner explained the philosophy many coaches have to deal with, "but if the team loses the coach is bad."  He said he didn't like the way Germany has changed in the last few decades.  He's seen people become more and more private and self'-interested, less trusting, and caring less about the community.  "Things are too easy here," he claimed as he shook his head of greying locks, "so people have to manufacture problems."  "In Poland people are poor but happy," he claimed through a rueful smile.  "Here they are rich and unhappy."  He left again, but not before giving us a basket-full of heart-shaped waffles.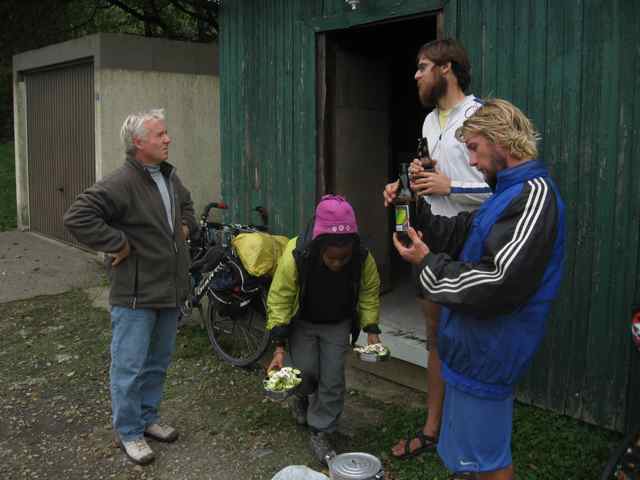 He returned with a car and distributed coffee.  The warm brew revitalized us on a cold day.  We cleaned up the concessions stand and wished him good luck with his games.  We traded addresses and he walked off into the field wheeling a chalk line-painter.  I added heart-shaped waffles to the list of things I owe random travelers in the U.S.