Deprecated
: preg_replace(): The /e modifier is deprecated, use preg_replace_callback instead in
/var/www/html/0708.fueledbyrice.org/public_html/blog/wp-includes/formatting.php
on line
74
September 25th was a long day.  We biked over mountains, along streams, down huge hills, broke the trailer, fixed the trailer, broke Pete's spoke, fixed Pete's spoke.  And that was all before lunch.  We had spent six days on the road since Regensburg zithout a shower or shelter from the blowing wind, the often driving rain, or the cool to cold temperatures to which Germany seemed determined to subject us.  We eagerly anticipated the end of the day, for we were supposed to arrive at the home of Tommy and Juliet, my friends from college, and thus escape the weather.  By 3:00pm, however, we had only gone 20km.  We had another 60 to go, but often we barely do that with a full day.  We resigned ourselves to staying another night in the open air, and putting off the paradise of Tommy's to the next day.
However, we kept plugging away.  We biked down a river valley, and the kilometers ticked away faster than expected.  Darkness fell.  We turned on our lights and clung to the protected bike lane, hoping against hope we would muster the fortitude for the final few kilometers.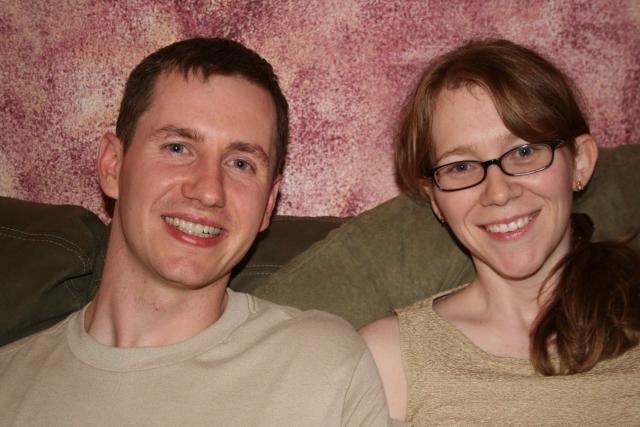 Tommy and Juliet.  Yaaayy!
Finally it was clear we had made it.  I called ahead to let Tommy know we were coming, after all.  He apparently set out immediately in his car in an attempt to do what Juliet later described sardonically as "find you".  But he actually managed to find us, and good thing too as we had passed his house and were headed back out of Heidelberg.
 He reeled us in to his and Juliet's apartment.  We found cupboards full of American food (Jiffy, CEREAL!, maple syrup) and a table set to the T.  Even though it was nearly 9:30 and we had told them we weren't coming, they had waited.  We gobbled up the meat they offered us with extra zeal.  At bed time, we found that we each had a bed made for us with matching sets of towels and wash-clothes on top of which rested a packet of gummy worms. 
The next morning, we slept in as they rushed off to work.  We awoke late and consumed embarrassingly large quantities of CEREAL! and milk and toast toasted in a real toaster.  Every day, Juliet and Tommy insisted on cooking for us, though we occasionally managed to help with this or that.  Juliet and I engaged in a sort of bake-off.  Her crusts were better than mine, but I tried to pursue victory through prolificness.  In this I was aided by long days with nothing to do, whereas she had to work all day, and prepare dinner.
We enjoyed our time with Tommy and Juliet immensely, and not only because of the food, the warmth, the hot showers or even CEREAL!  We traded stories around the dinner table and played games like telephopictionary late into the night.  It was bitter sweet indeed when we left several days later and biked into the rain.  Tommy and Juliet provided warm company and what was undoubtedly the most organized barrage of hospitality I've perhaps ever enjoyed.