Deprecated
: preg_replace(): The /e modifier is deprecated, use preg_replace_callback instead in
/var/www/html/0708.fueledbyrice.org/public_html/blog/wp-includes/formatting.php
on line
74
In the midst of maps and streets seeming more like spaghetti than roads,
the natural stress of biking into a major world city, and with light rain, as the trend has been in Germany and France, coming around the bend of the Seine River to get our first glimpse of Notre Dame Cathédrale met with emotions gone numb, but still having the fuzz of excitement buzzing in my head.
and then we followed the Seine further to The Tour Effel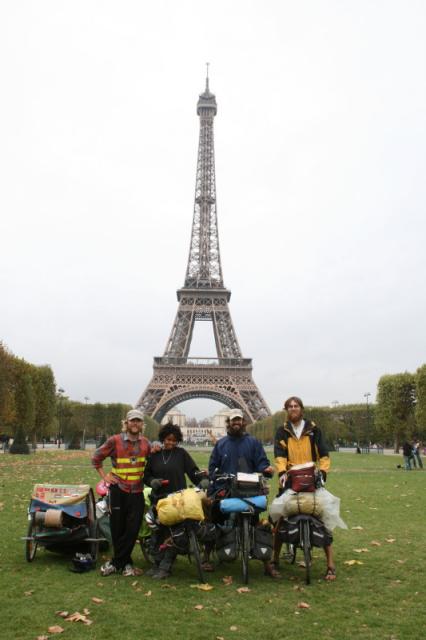 I need more time, more down time to process and just comprehend that we are here. But, we have already had 1 great host, Eric, from www.hospitalityclub.org: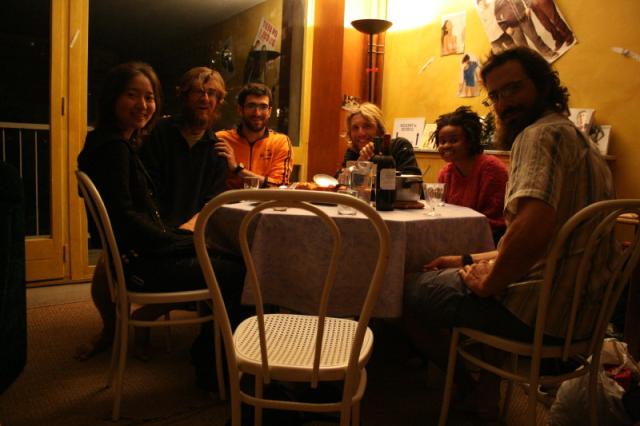 and now we are staying with our 2nd host, Julien, whom we again found online (Eric had to go to Berlin this weekend). Julien is generous and friendly… and yeah, his best friend is getting married tomorrow and the party is here in his amazing ground floor studio apartment with small yard. But that wasn't any reason to not host us this weekend!
Cecilia Xiong - twin sister of one of my previous students and good friends, Tracy Xiong, and Drew's Chinese tutor back in Beijing - is here with us to be the only person to both see us start this trip back at Matt and Austin's apartment in Beijing AND finish it here in Paris. She moved to France last spring to study for 3-4 years.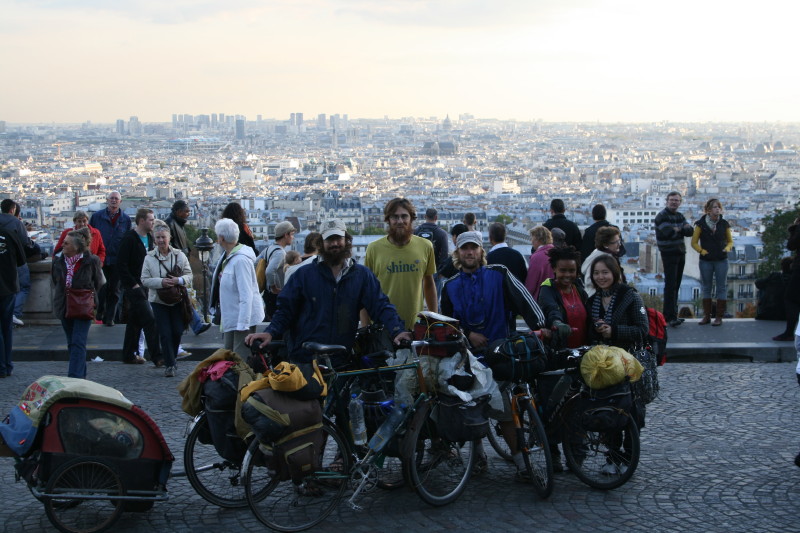 From Sacre Cours Cathédrale overlooking central Paris, with Cecilia Xiong
Moreover, Sara, one of Nakia's good friends is coming in from the UK this morning to celebrate with us this weekend too.
I'll do my best to take it all in. Interestingly, all of us FBRers have been to Paris before, reducing some of the pressure to see the sights, for this city is packed with amazing things. Instead of rushing all around town, a little leisure on the Effel Tower lawn with some wine and strong cheese, and maybe one or two muséum exhibitions will be enough. Jen also recommended the bathhouse at the Paris Mosque to soak and relax, which sounds like a worthy splurge to me.
But this is not the end. Stay tuned for our American tour, Chicago to Minneapolis beginning Oct 21, arriving in the Twin Cities on Sunday Nov 9th, inshallah, in the late afternoon for a Chili Feed at a park TBA. Again, you are welcome to join us!