Deprecated
: preg_replace(): The /e modifier is deprecated, use preg_replace_callback instead in
/var/www/html/0708.fueledbyrice.org/public_html/blog/wp-includes/formatting.php
on line
74
Two days out of Paris we biked under blue skies to a small village where we dined on pasts soup.  A curious carpet layer enjoying his day off joined us onthe grass across from the church  After hearing our story he saw fit to buy us beer, which we eagerly gulped down.  We biked out of the vineyards that surrounded town, considering ourselves lucky to have met such nice people.  Soon the light grew soft.  The sun fled westwards.  I thought forward to the night, when I would be crouched around my campstove, chopping veggies into my pot before sleeping on the ground.  I savored the rough nature  our lives had assumed in the past few months.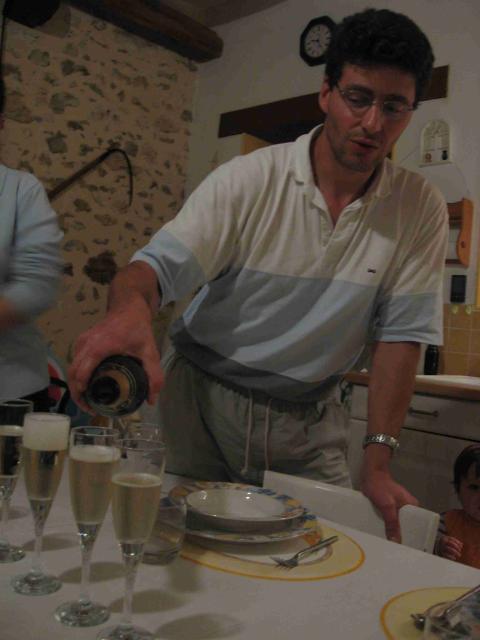 You can imagine my surprise when one hour later I found myself sipping champagne while seated at an exquisitely set table in a wonderfully remodeled farmhouse.  We had asked Laurent for directions as he  collected walnuts from a lawn in his village.  I spoke with him in halting, ungrammatical French until he established we were English speakers.  He invited us back to his house to look at a map.  Soon we found ourselves sitting around his table, sipping yet another free beer.  He then extended the use of his shower to us, and in a shockingly wonderful escalation of offers, he invited us to stay for the night.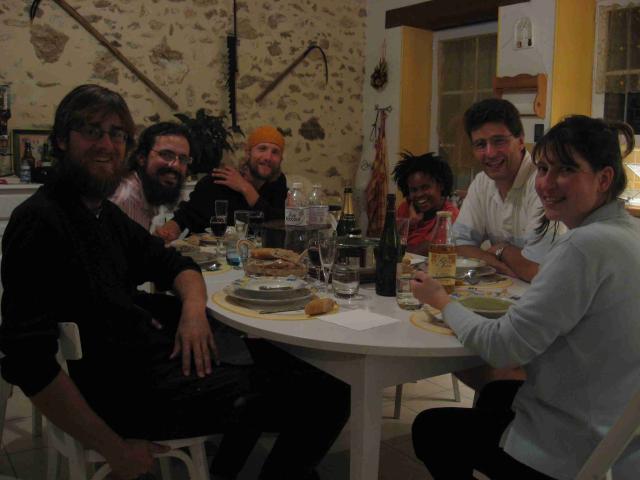 Perhaps it was only natural then, that the evening led to champagne.  What surprised us about Laurent's offer is that he and his wife, Christine, are attempting to raise sixteen month old twin boys.  At first, they regarded us shyly through wide eyes. Upon release from the living room, they abandoned shyness and they tore into the kitchen, bent on raising hell.  As Able attacked the lower cabinets and their contents, Hugo assaulted the steep stairway leading to the guest room.  Managing the twins took the best efforts of both parents.
Over our cooperatively-cooked meal, Laurent explained that he had worked on a farm in Canada for half a year.  He and Christine enjoyed several travels overseas.  Perhaps this explains both their eagerness to host us and their adeptness with English.
Whatever caused our hosts' invitation, we passed an enjoyable evening, punctuated though it was by wails from the baby monitor that sent Christine scurrying upstairs to try to restore order in the nursery.  Laurent communicated his fears about the fate of a world addicted to petroleum.  We agreed we all must do whatever we can to avoid use ourselves while trying to educate others.
After dinner I realized I would have to add ice cream to champagne and other things I would have to offer cyclists in the U.S. if I intend to repay some of the hospitality extended to me on this trip.  Guys like me probably don't need any more excuses to keep ice cream, but oh well.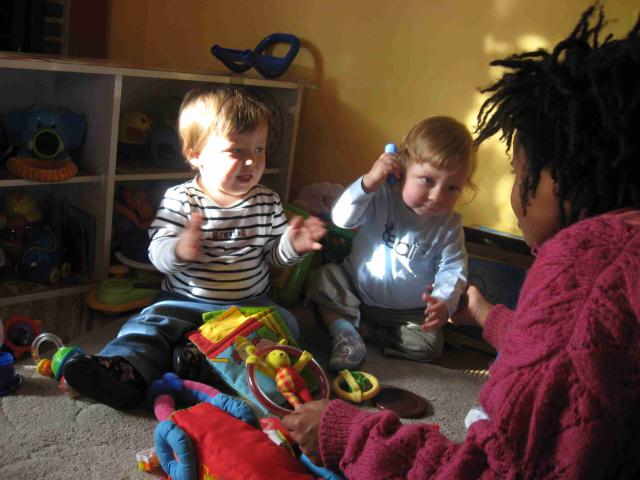 Laurent left early the next morning and Christine prepared breakfast.  We loaded up the bikes while the twins stumbled around the road.  Able often fell down and used the opportunity to stuff his mouth with small stones.  Christine extracted them, and after a photo we biked down the road, warmed from the extension of kindness and gleeful to be able to present slightly cleaner versions of ourselves to Paris.